There are so many great French-related websites out there on the net. You'll find here a list of the some the best ones that have a lot to offer. Do you have or know of a French-related website that isn't on here? Email me at hunter@frenchplanations.com.
Lawless French is a very popular blog created by Laura K Lawless and is a great resource for learning French grammar. Created in 2014 Lawless French has grown to be one of the most popular French blog sites you can find. Laura's explanations on everything are very clear and she always provides plenty of real-life examples. Definitely a blog that French learners of all levels should check out.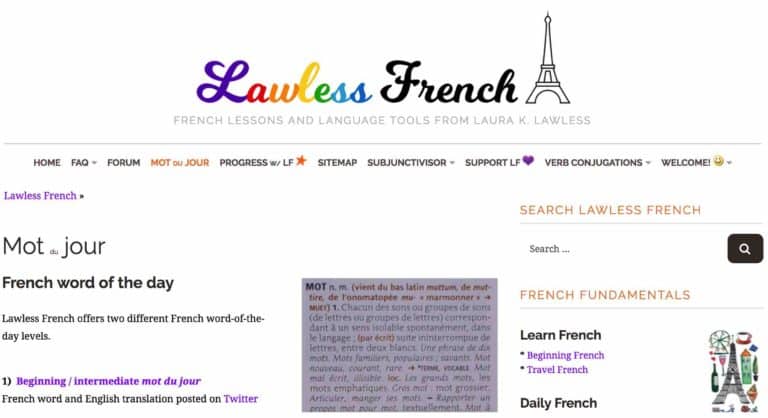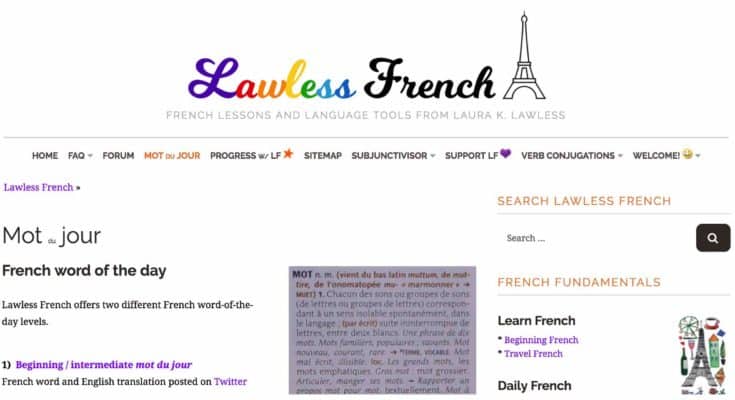 Just French It is a website created by Marie Drouvin a native-French speaker who has a strong desire to help those learn French. Her site contains valuable information on the French language, French culture, French business, and more. Along with a wide-variety of free information she also offers premium e-books for those looking to take things to the next level. Just French It is a great website for beginners looking for an easy way to get started learning French without feeling too overwhelmed.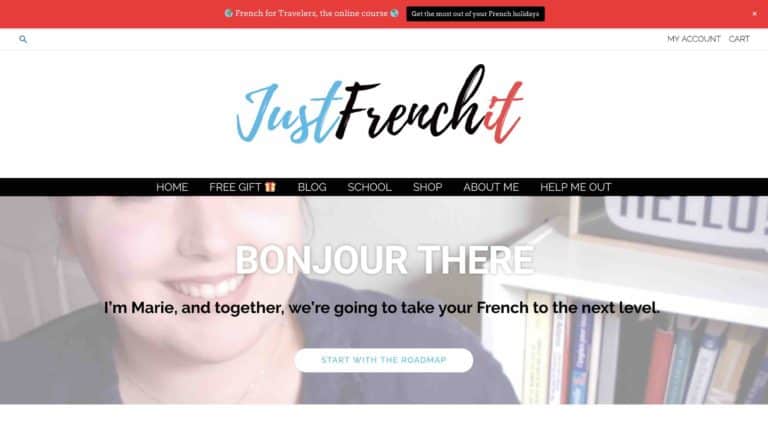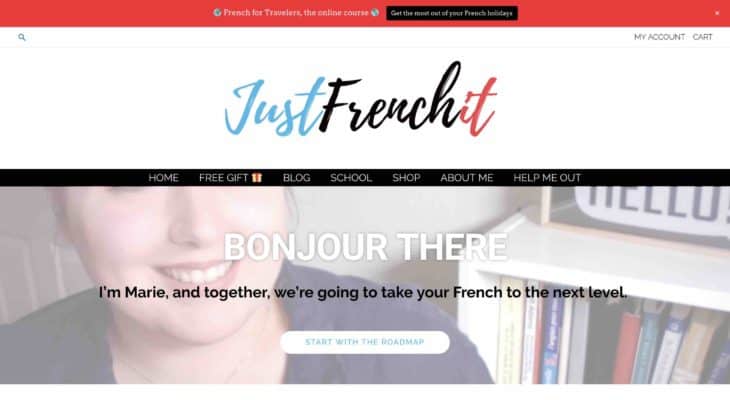 French Crazy is another very popular website where visitors can learn about a variety of different French-related topics such as the French language, French culture, living in France and French food. The site has been around for over seven years and has amassed hundreds of different articles. Definitely a well-rounded website for the everyday French enthusiast.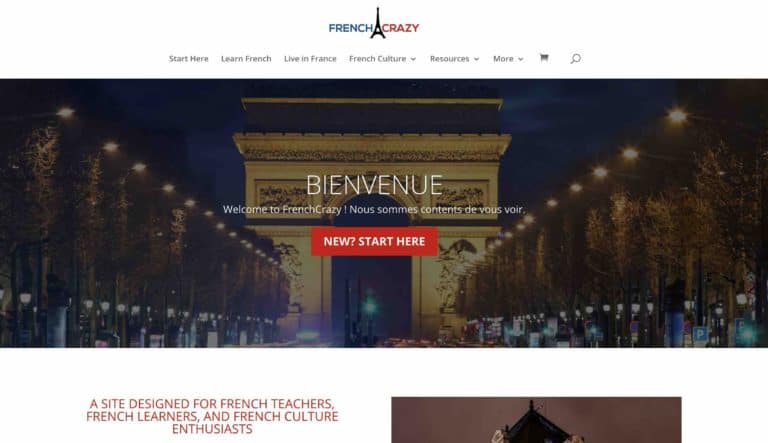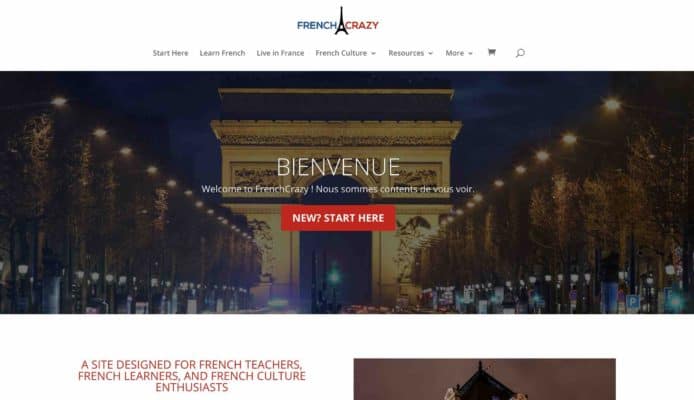 It's time for our first all French website. Regard sur le français was created as a resource for those learning Canadian French. You'll find here articles about French books, movies, series, music as well as advice for how to learn difficult parts of the French language. If you already have a good handle on the French language then you'll enjoy this one as you can practice your French just while reading through the articles.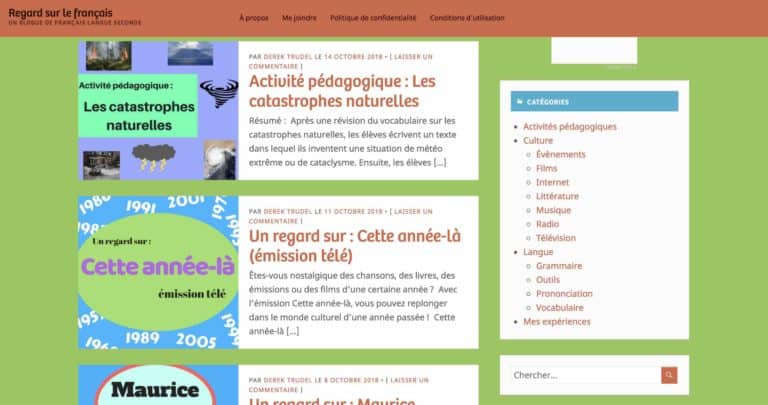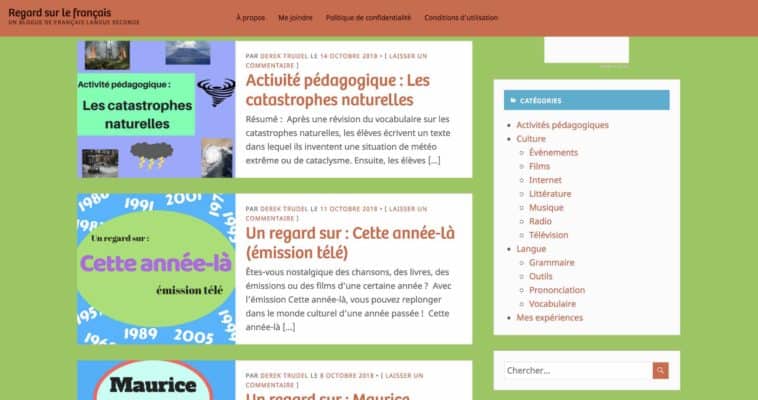 Français Immersion is a website that offers a great solution to those seeing French fluency. The owner Thomas believes that the best way to tackle this language is through total immersion. You'll find here Thomas's French-learning programs along with tons of free articles and videos that give you easy-to-understand explanations on various grammar points. If you agree that immersion is the best approach to learning French then Français Immersion is for you.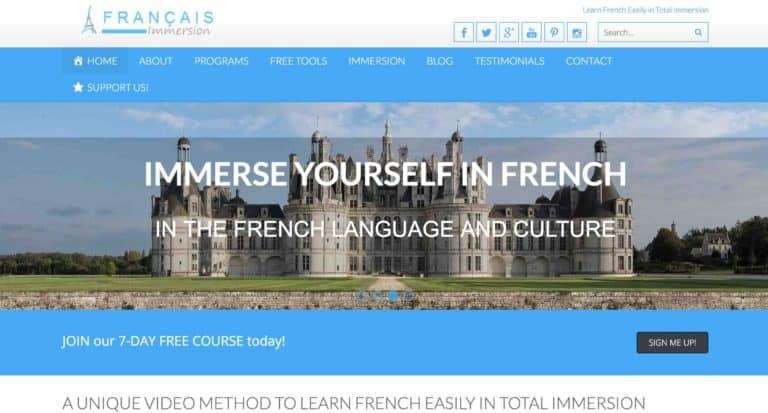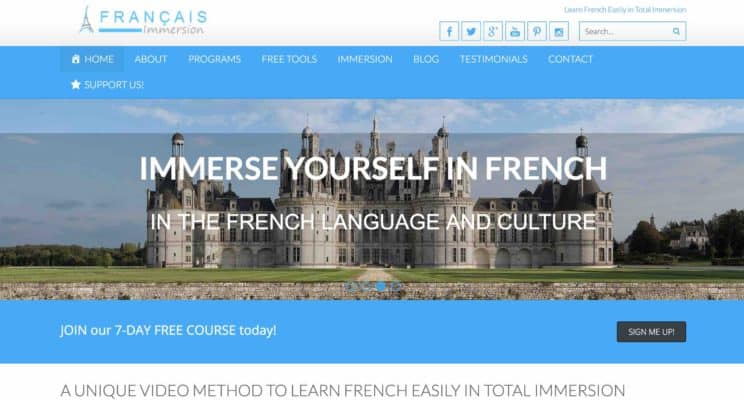 Talk in French is an online e-commerce retailer that offers downloadable French language courses to French learners. In addition to their products you can also brush up on your French with podcasts and articles that go back years. Unlike some of the other French learning websites this one presents itself as a store first and a blog second. Nevertheless, Talk in French makes an amazing addition to this list.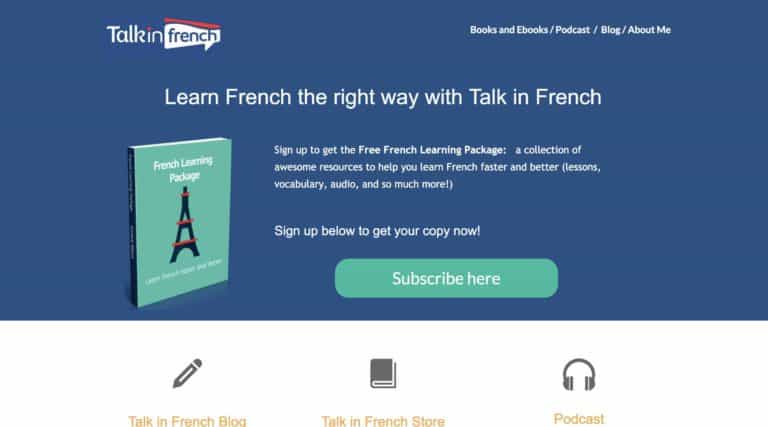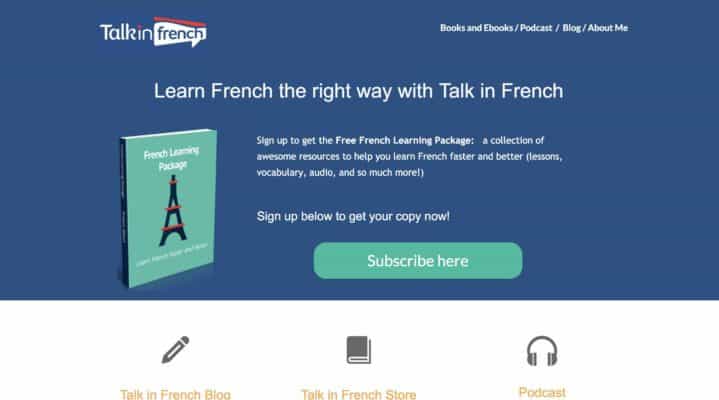 French Together takes an interesting approach when teaching students French. The idea is that in order to be able to speak and understand 80% of everything in the French language you only need to learn 20% of the language. This website offers products that teach you that 20% that you need. Along with this program you can also find articles on various French-related subjects to help your understanding of the French language, as well as various aspects on French culture.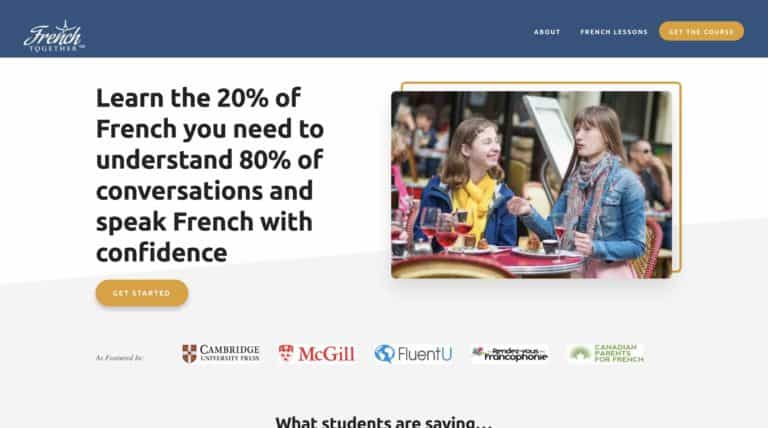 Another website that is entirely in French. Français Authentique is a website particularly designed for the intermediate French learner as to be able to understand the site at all you need to have at least some level of French. Similar to some of the other websites on this list and contrary to others, Français Authentique focuses more on downloadable courses as opposed to simply being a blog. There is however a blog that is updated regularly however. If you feel that your level of French has surpassed the beginner stages and you are looking for something more then you will definitely find something for you at Français Authentique.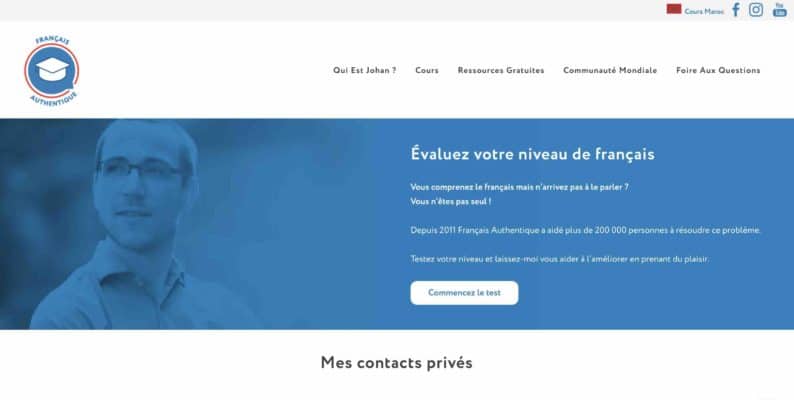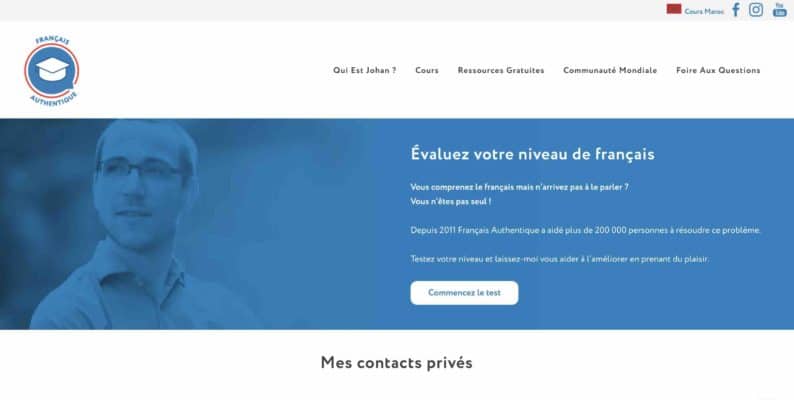 Americans in France is a site dedicated specifically for Americans who are looking to travel or even live in France. You'll find here information on daily life in France, different regions in France, French food and much more. Just about any bit of information you could think of regarding traveling or living in France can be found right here so if this applies to you then this site will prove itself useful.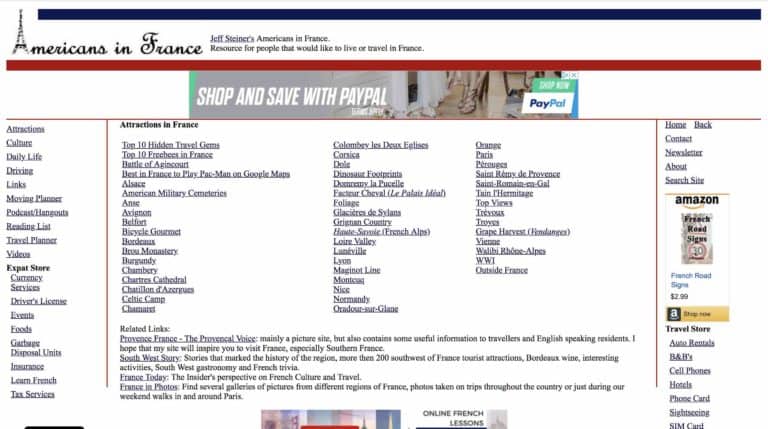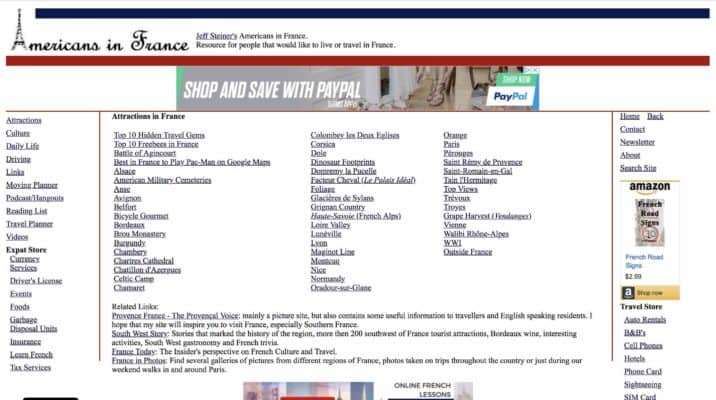 One Thing in a French Day was created by Laetitia, a French woman living in France and talks about an experience she has each and every day of the week. She writes a little blurb about her day in French and even records it as an audio file. In order to access the full text it only costs 3.50 euros per month. The great thing about this website is that it you get a feel for how things are written and spoken by natives as well as how they speak on a daily basis. Laetitia is very good about uploading content consistently so if you join now you have content that goes back to 2006. Definitely recommended for those who want some real world French experience.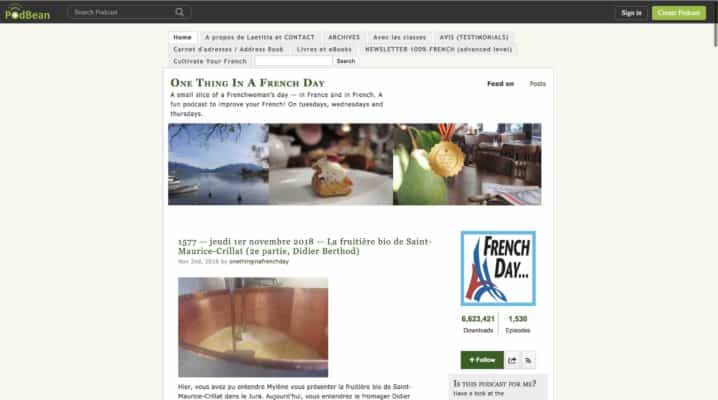 French Today is probably one of the most established websites on this list. Started by a family who has lived both in France and the US you'll find here an extensive live of blog articles, French audiobooks, French Skype lessons, and even teachers you can contact for French immersion stays. This is probably one of the most thorough websites for those who are very serious about learning French.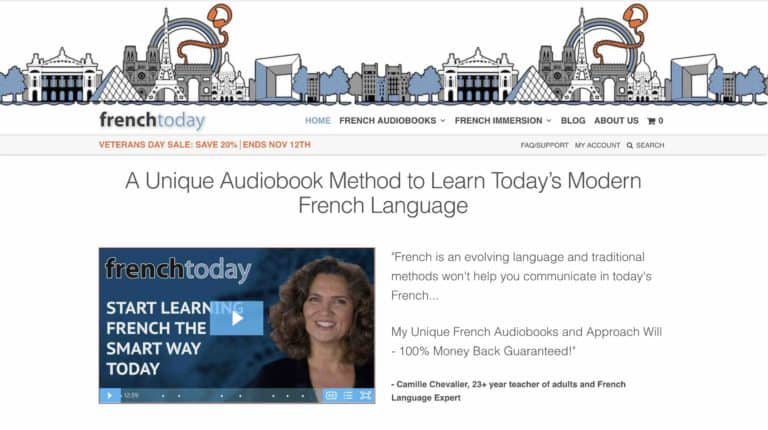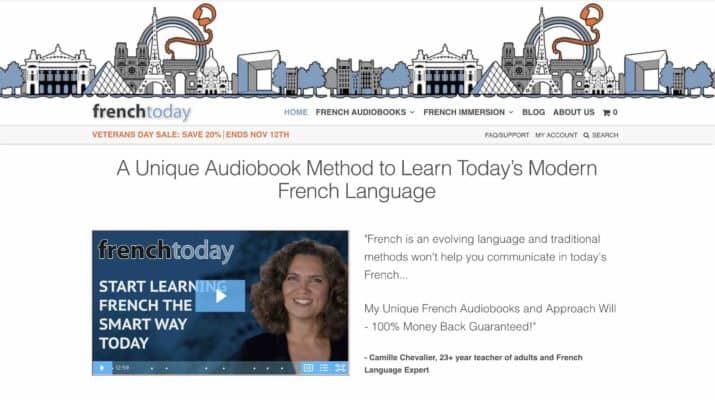 Daily French Pod is exactly what a sounds like.  A website that offers you daily podcasts in French to help you learn. With an archive of over 10 years you can find tons and tons of French podcasts to listen to. They even offer you a 7 day free trial if you just want to try it out. If you like to learn without a lot of fancy explanations then Daily French Pod could be an option for you.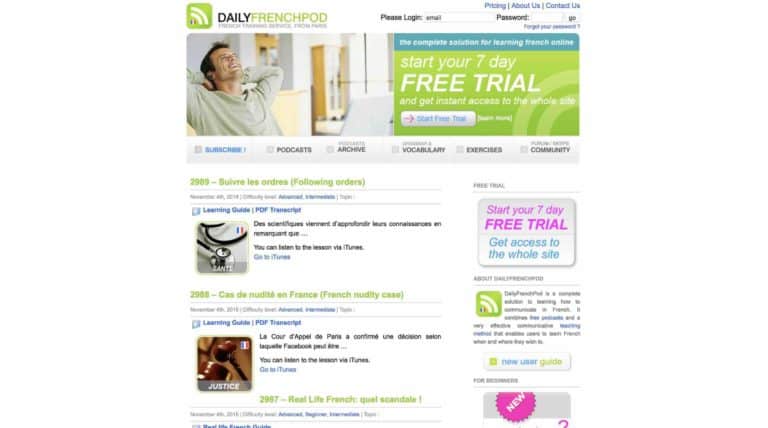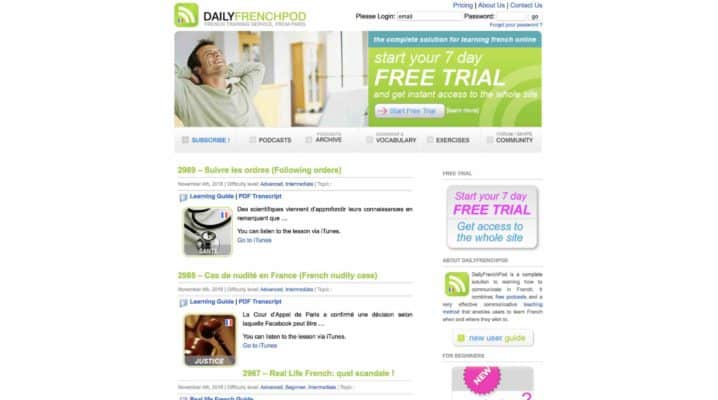 French Connect is a blog with resources on all sorts of French-related topics. From learning French, to learning about French culture and literature this is a very well-rounded site on the topic of all things French.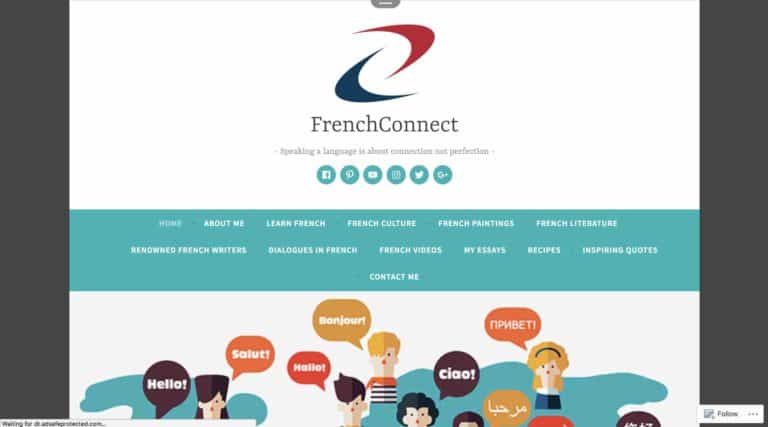 You Learn French is a very simple blog that contains countless videos teaching you vocabulary that you can use on a daily basis. The archive of these videos goes back several years so there is no shortage of free content to consume. If you are a true beginner then you may want to start with some of the videos on this site.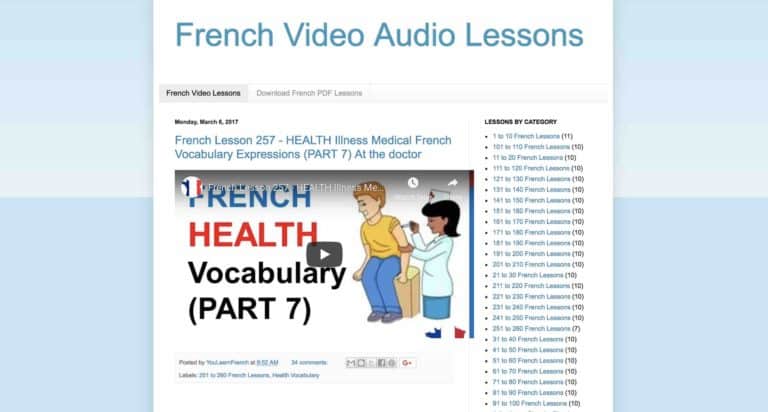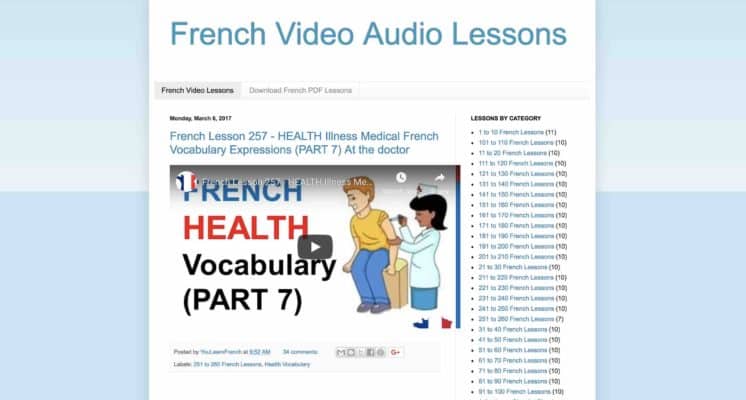 French Language Course offers French language immersive courses in Montpellier, South of France. You get a French program tailored to your needs. There are even thematic visits according to your interests. For adults and also teenagers there is even a fully-immersive French course with accommodation and activities. You can read a wonderful blog on various topics including French historical figures, traveling and more.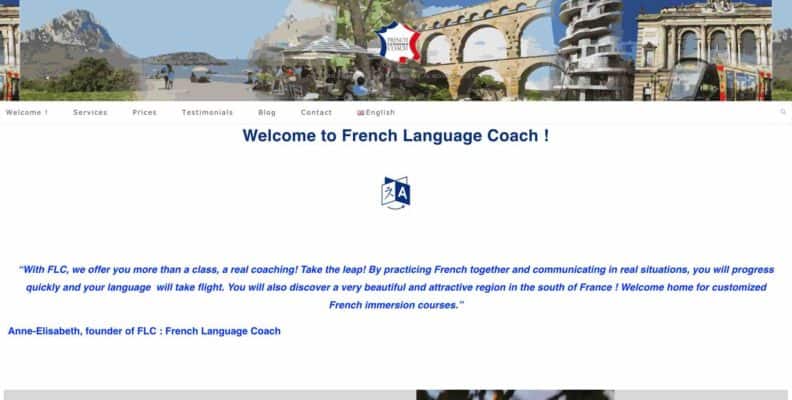 Just like it looks, France Travel Tips is a blog that gives you tips to help you when traveling to France! You can find here information on traveling to Paris, saving money for your trip, the best times to go and of course much much more. This site is definitely recommended for those who have either never traveled to France or just don't have a lot of experience doing so.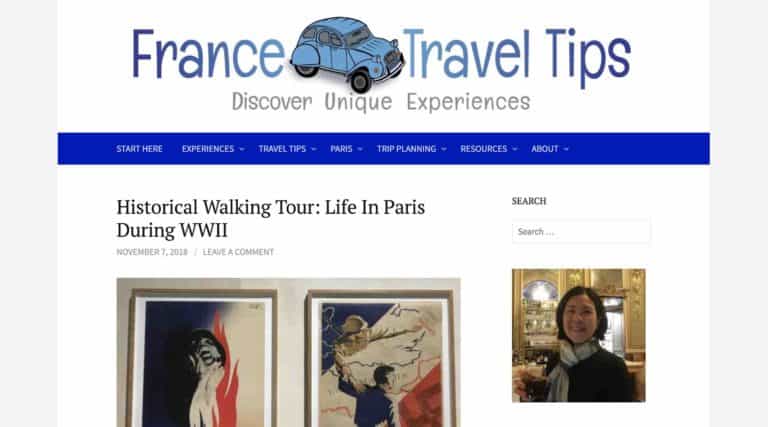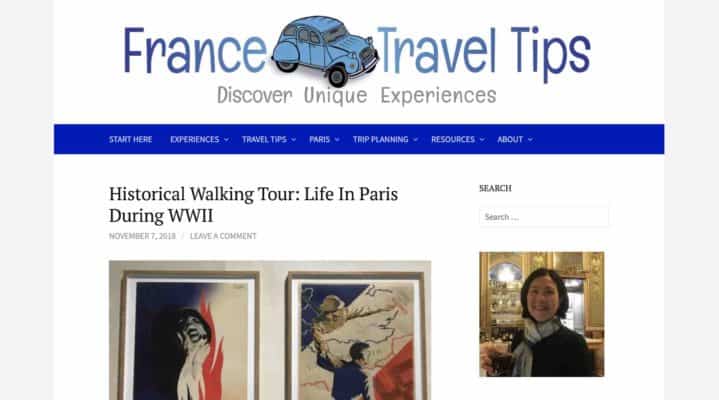 Just France Travel Info is another website that centers around traveling to France. When coming to this site you'll find right away information on getting around France, different regions and departments and of course Paris. From Paris boat tours to the climate in France and working abroad you'll find it all right here.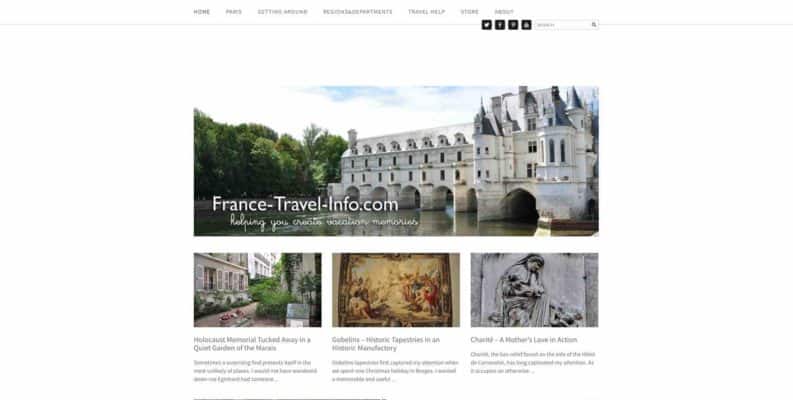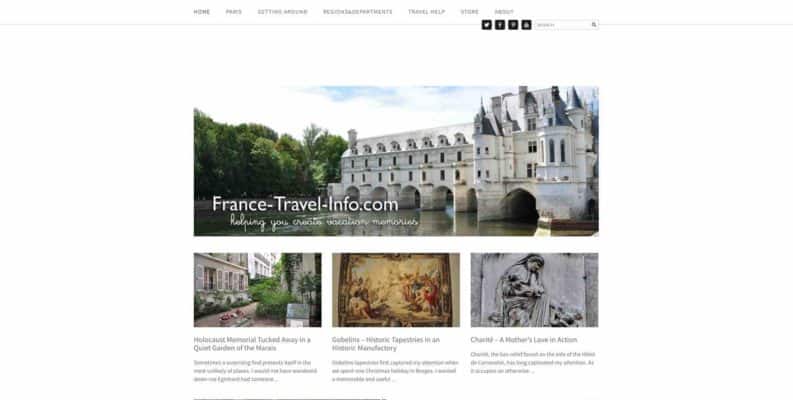 Another great website on the subject of France is called The Good Life France. You'll find here tons of information on French culture, living in France, the different regions of France and even French food. This site itself has thousands of articles for you to explore so you'll likely never run out of great articles to read here.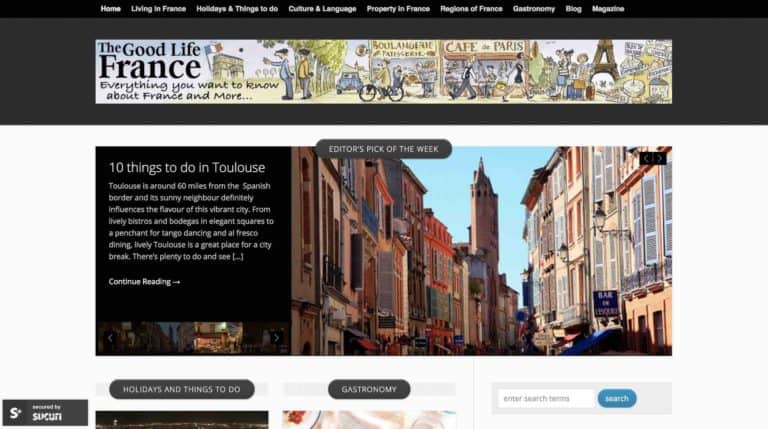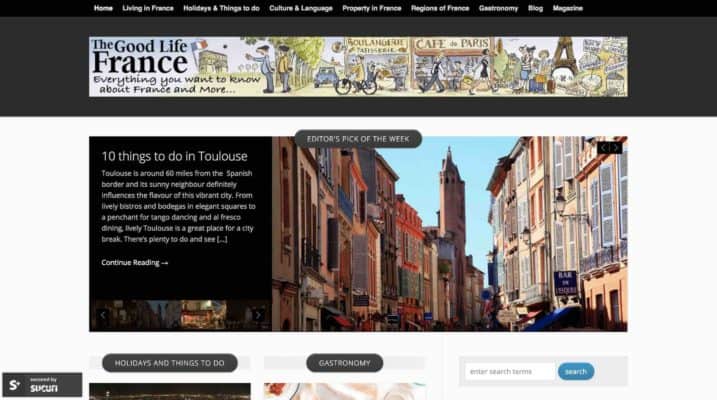 It's pretty common to come across France-related sites that contain information on this amazing country. This site gives you all of that plus a lot more. Understand France gives you an inside view of France from a Franco-American perspective complete with food tips, strange behavior and all sorts of subjects you can't find anywhere else.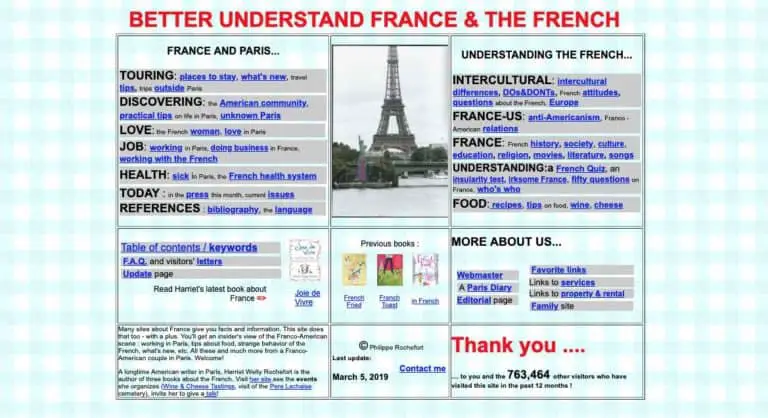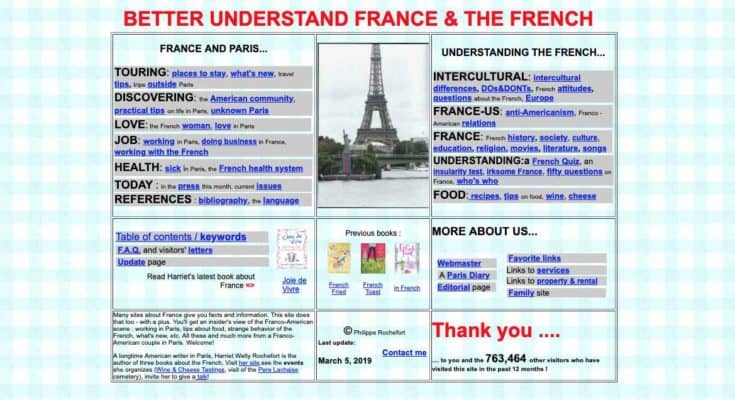 French Iceberg probably has one of the widest range of topics that you can find on this list. The site itself offers informational articles on French food, the French internet, French music, French slang, French sports, the French language and more. Most similar blogs don't even touch half of this. Definitely a very well-rounded blog when it comes to all things French.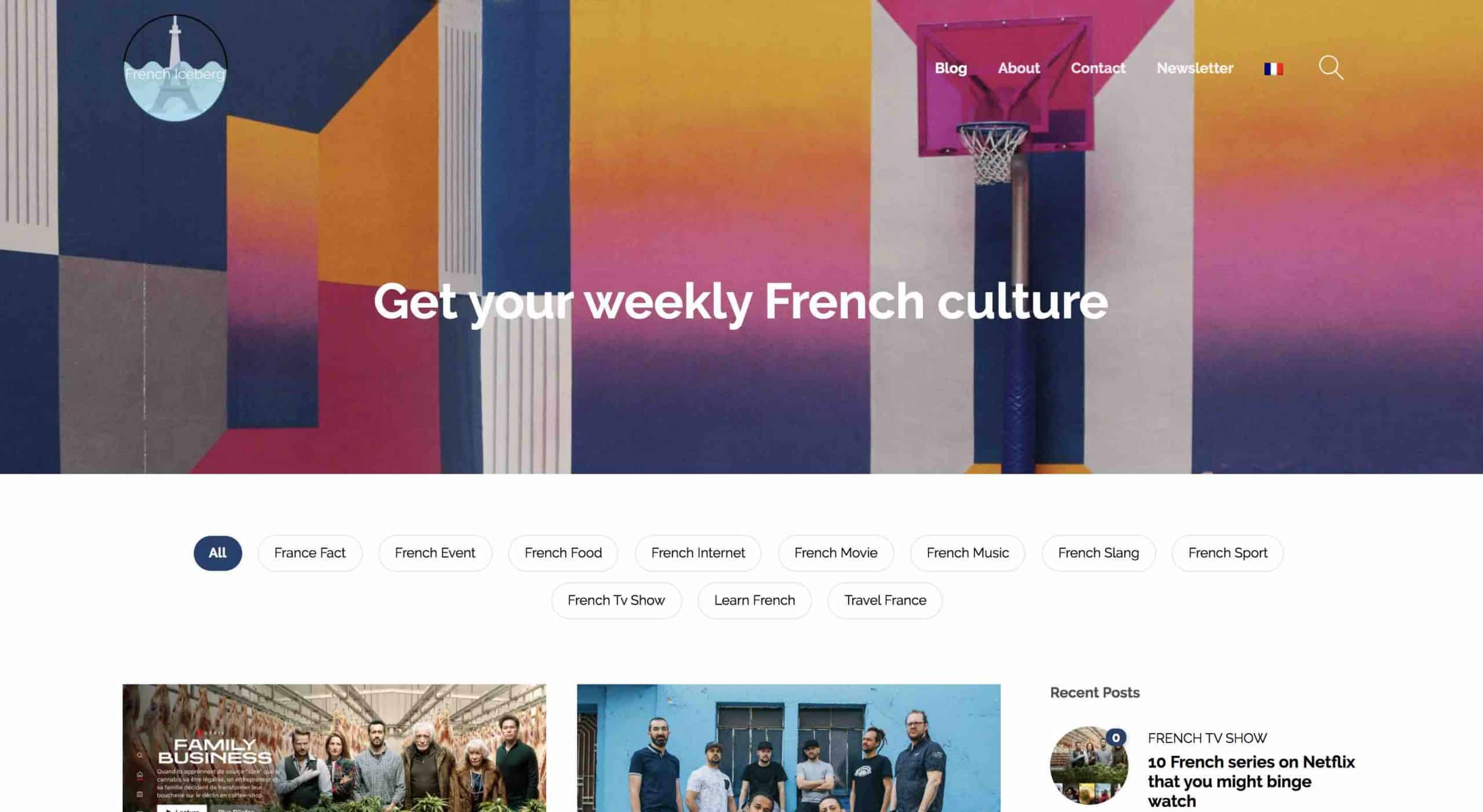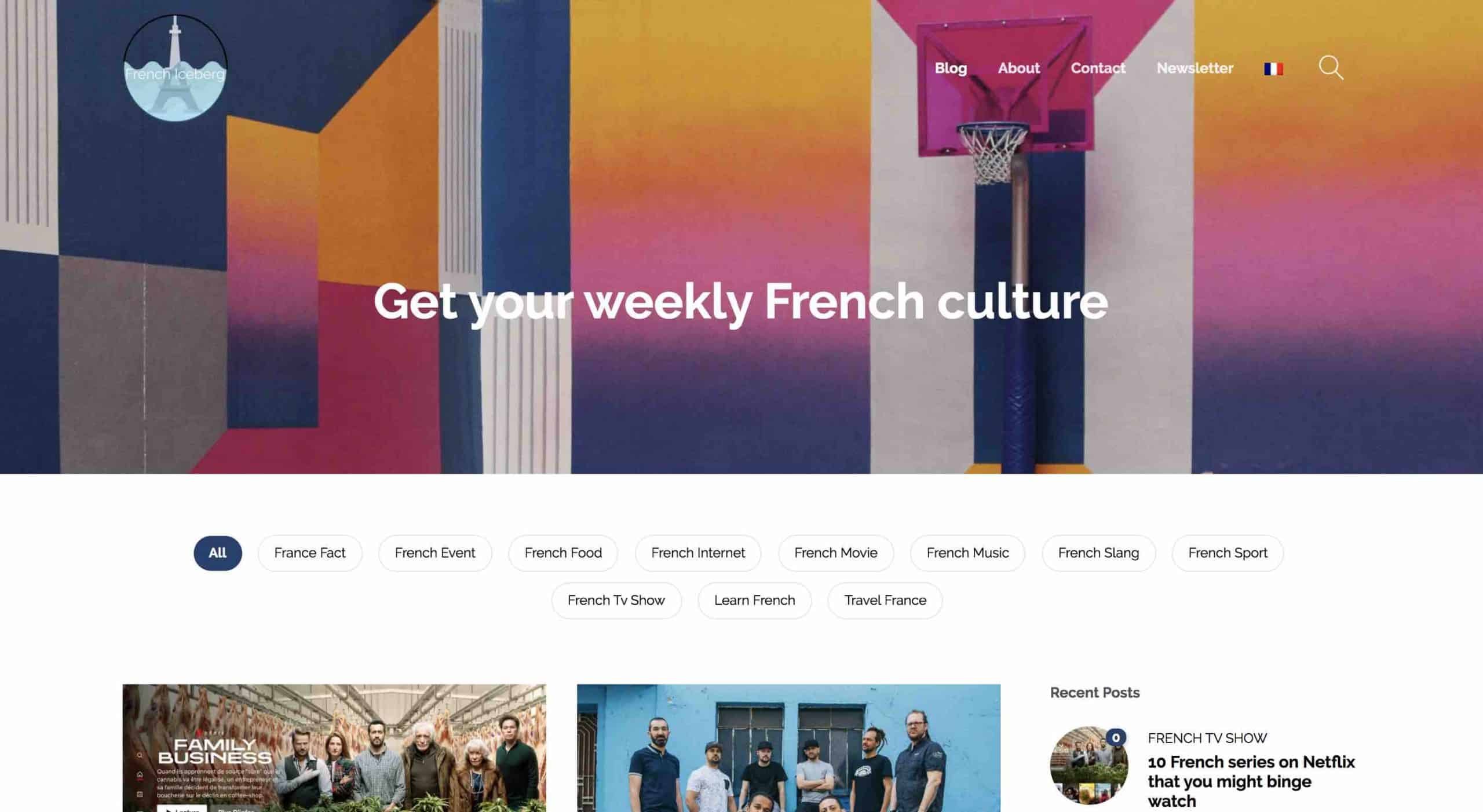 Just French Moments is a wonderful blog with all the information you could ever want about the great country of France. The great thing about this website is it goes into great depth about aspects of France you probably have never even thought about. If you're looking for something a little different and want to surprised, head on over to French Moments.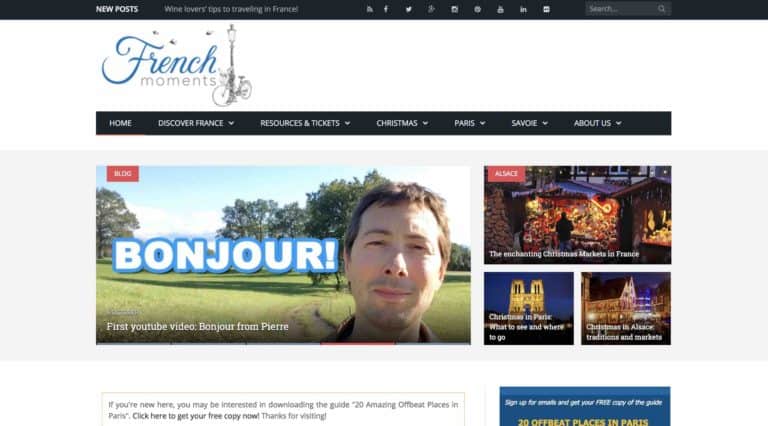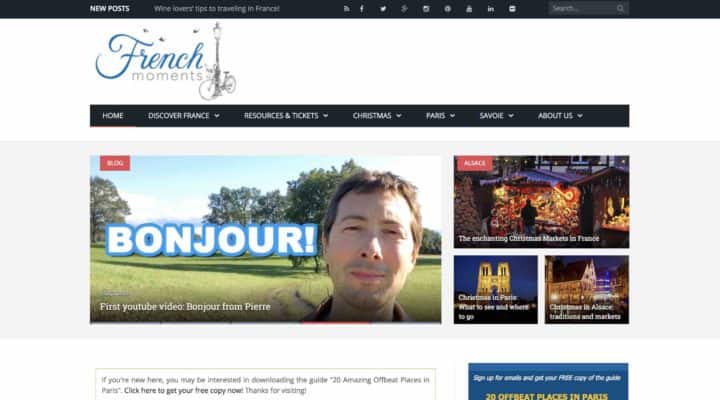 Contrary to some of the other websites on this list Belle Provence Travels specifically focuses on the south of France where the owner lives. You can find here a realistic take on French life in the Var region of France. If the South of France interests you specifically then you will definitely find what you are looking for right here on Belle Provence Travels.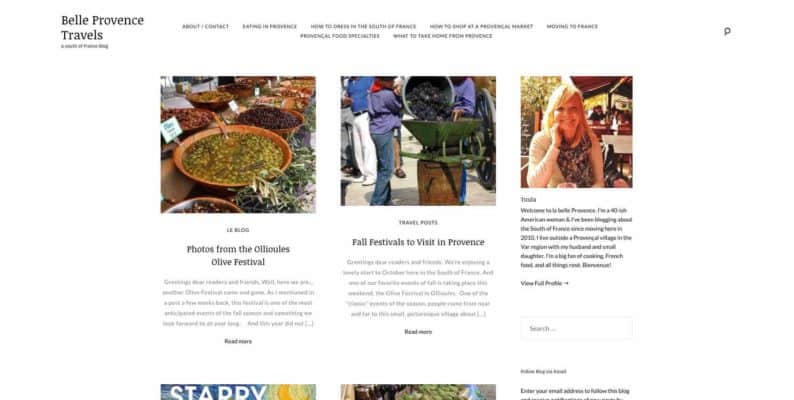 A French Collection is perfect for those looking for a mashup of everything and anything French. Without much digging you can already find tons of great content on living in France, French traditions, the French style and of course learning the French language. If you want a taste of literally all aspects of French and France then start here.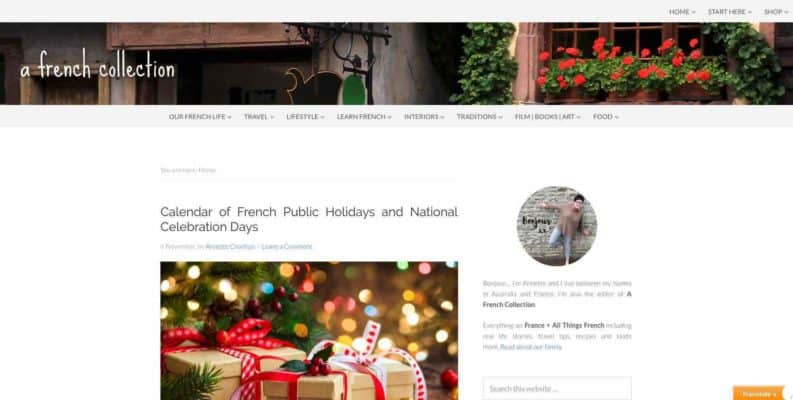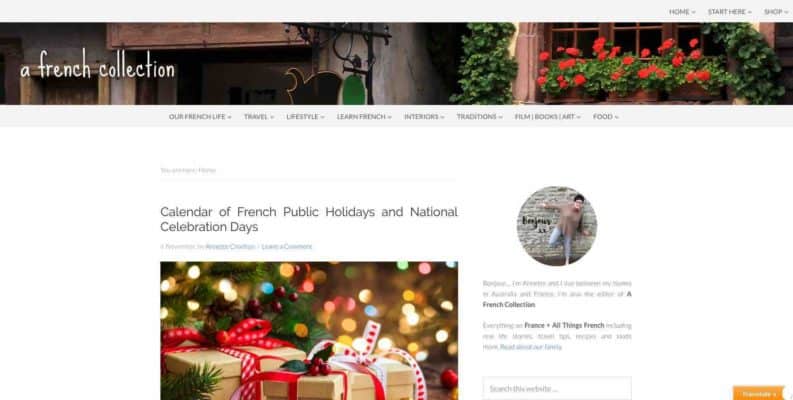 My French Life is an online magazine that offers an enormous amount of information on France and French life. With over 60 writers from all over the globe you can find any bit of information regarding France right here. They even offer services that help those looking to travel to France. One of the best parts about My French Life is they have an entire section of their website in French with articles written entirely in French.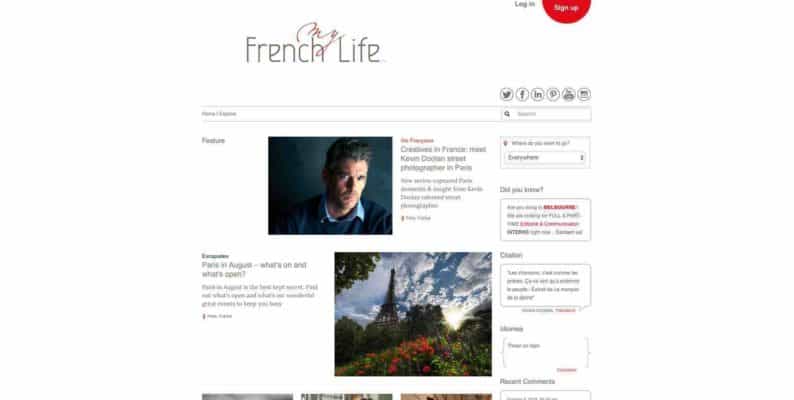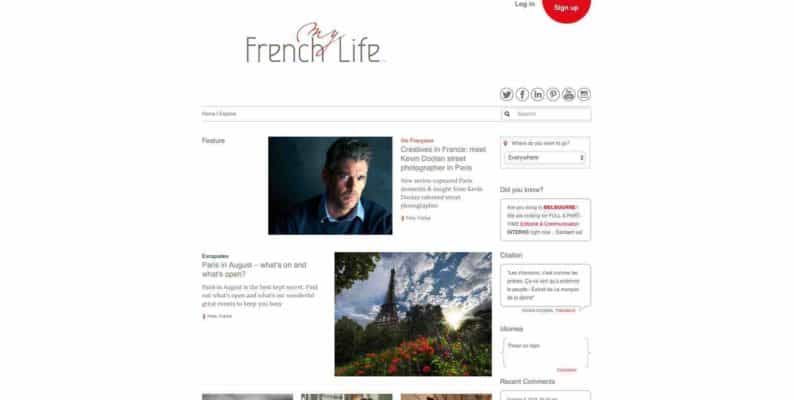 If you are looking for a more personalized approach to learning French then Learn French Lab may be one of your favorites. Along with specialized Skype Lessons Learn French Lab contains free information on French grammar, French vocabulary, common French phrases and more. You can even download free French worksheets and crossword puzzles.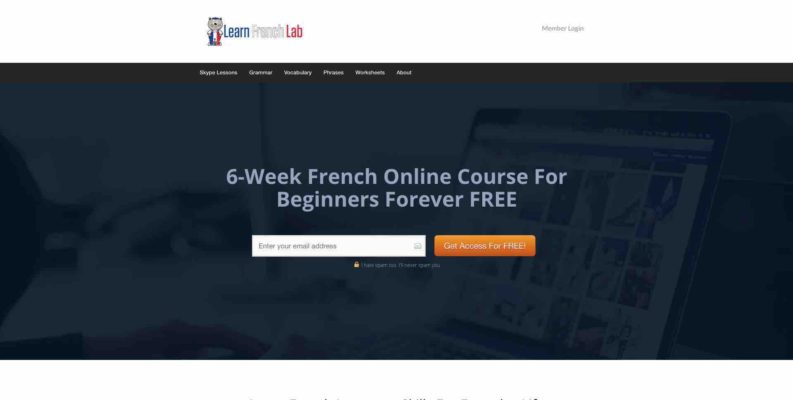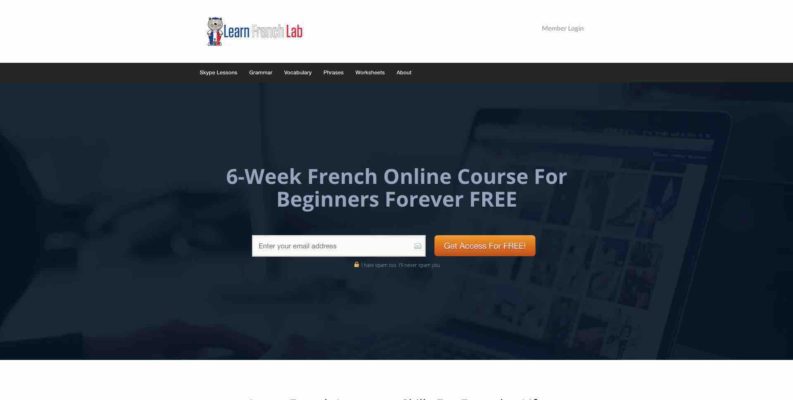 French Lessons Australia is a wonderful site for those looking for affordable French lessons. Based in Brisbane, Australia French Lessons Australia offers tutoring, French for travellers, French for business and more. If you aren't in the Brisbane area they still offer an online course that you can take. They also have a blog with lots of free information you can learn from.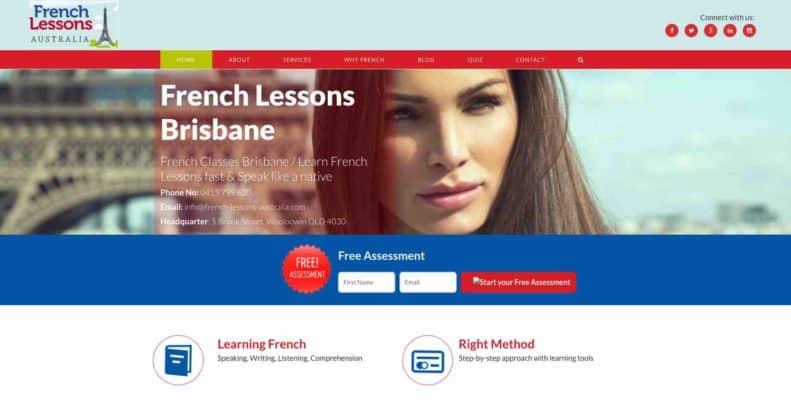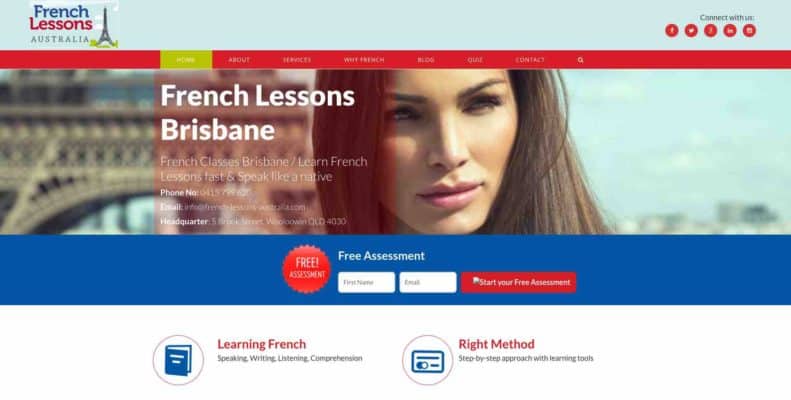 Prêt à Voyager is a fantastic blog on the subject life in France and Paris in particular. The highlight of this blog is that it takes a very realistic approach to living in France and gives some suggestions as to how to go about doing it. You'll find here some of the best suggestions on how to tackle French bureaucracy and realize your dream of living in France.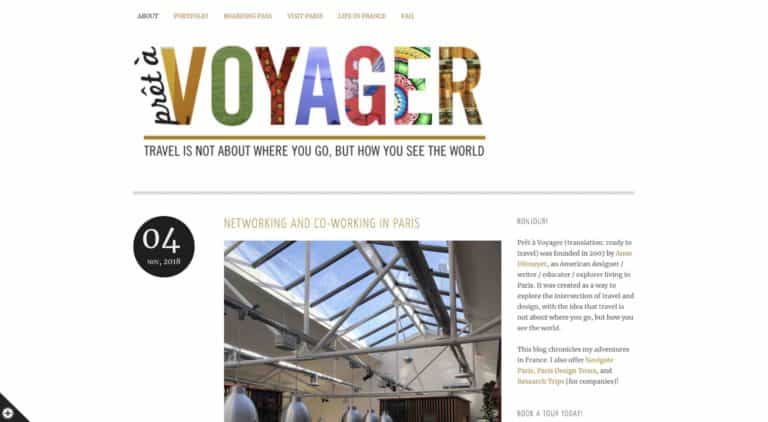 Our French Oasis is a blog about a family that lives in a country village in South West France. You'll find here a very special take on life in France in that it focuses on what one may come across on a daily basis when living in France as opposed to from the point of view of a traveller. Take your time to read through a few of the articles here and you'll already feel like you're living in France.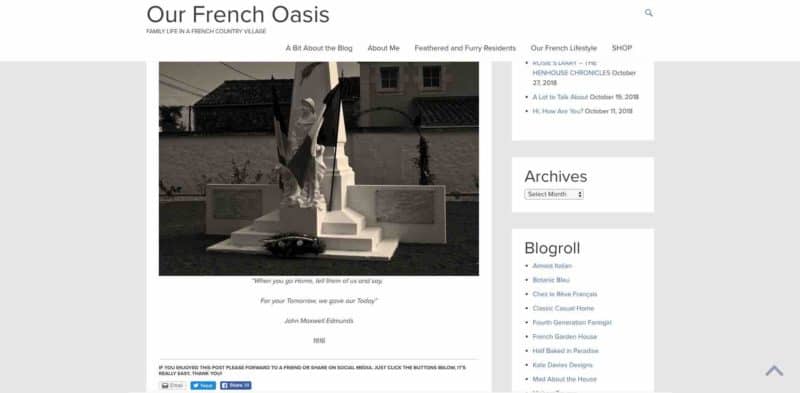 Aussie in France is a blog created by an Australian-turned French woman who has been living in France for many years. If you are looking to travel to France you can find information here on recommended places to stay, great recipes to try, wine to taste and even useful French words and phrases. Overall a very informative website on France and the French language.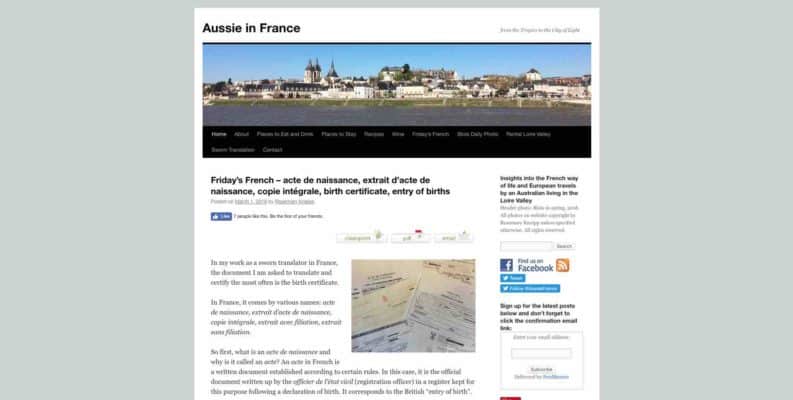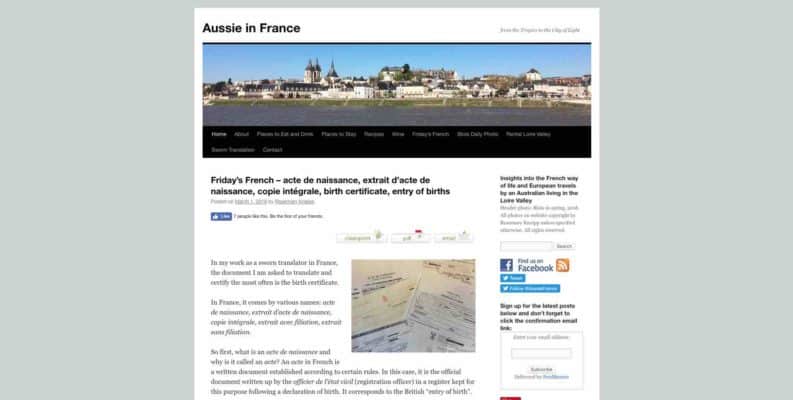 Awesome French is a site with huge archives of French grammar, French idioms, information about French culture and tons more. The best part about this website is that the owner even has a section where you can ask them a French-related question which they answer right on the site. Got a French question you're dying to ask? Awesome French just may be the place to ask it.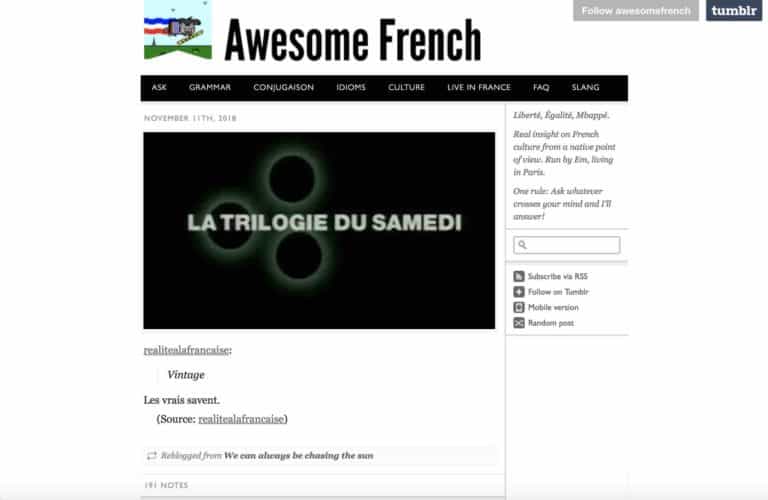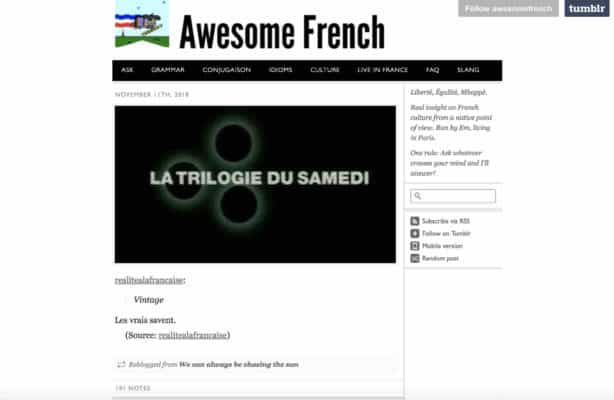 This French Life offers a wide variety of information on what's currently going on in France. You can see here content on various events that go on near Villefrance-du-Périgord. If you happen to be in the area or would like to visit, then this site could be very helpful to you.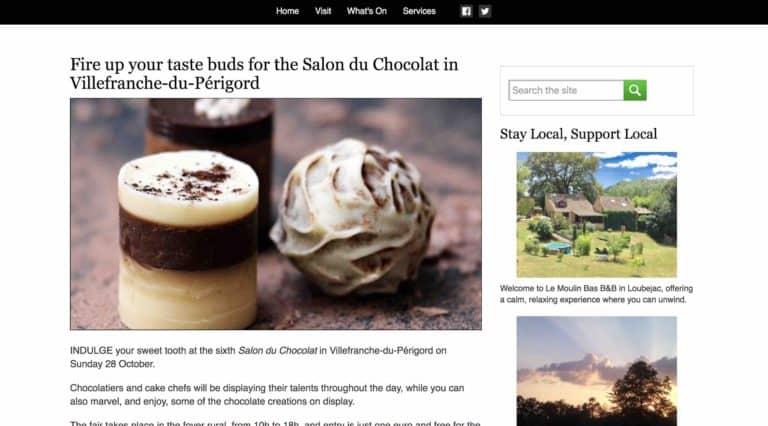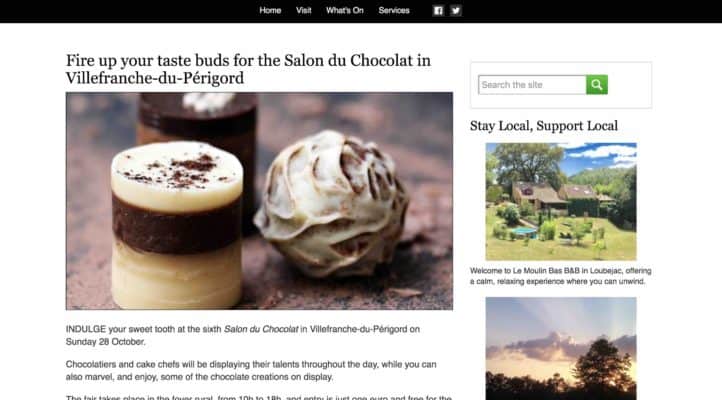 Life on La Lune is the project of a British writer's life in Southwest France. Similar to other websites on this list Life on La Lune talks extensively about life in France and the various oddities that come along with it. You can see lots of great pictures featuring beautiful French architecture, food, paintings and more all right here.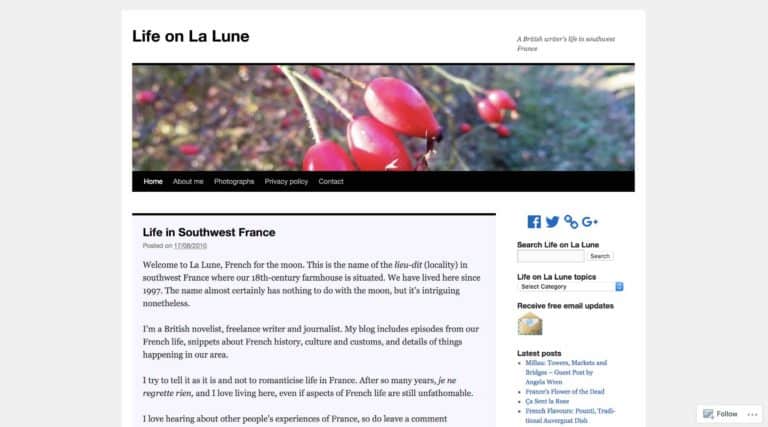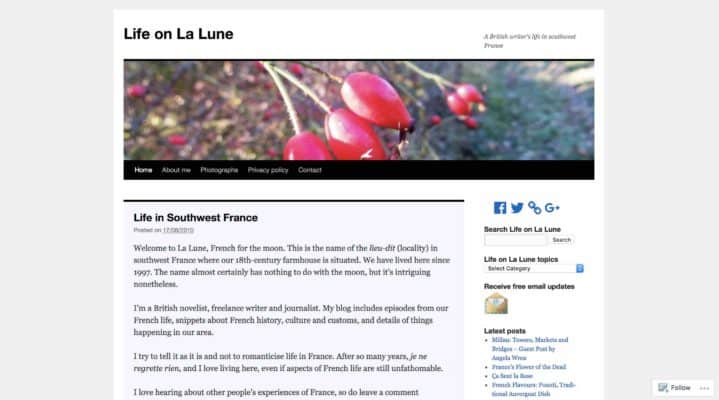 Prête-moi Paris is a website that focuses mostly on the city of Paris and everything you may find in it. Even with just a quick glance through the site you'll find details on French hotels, French bakeries, French cafés and of course tons more. If you are living in Paris, or soon plan to I'd suggest taking a look at pretemoiparis.com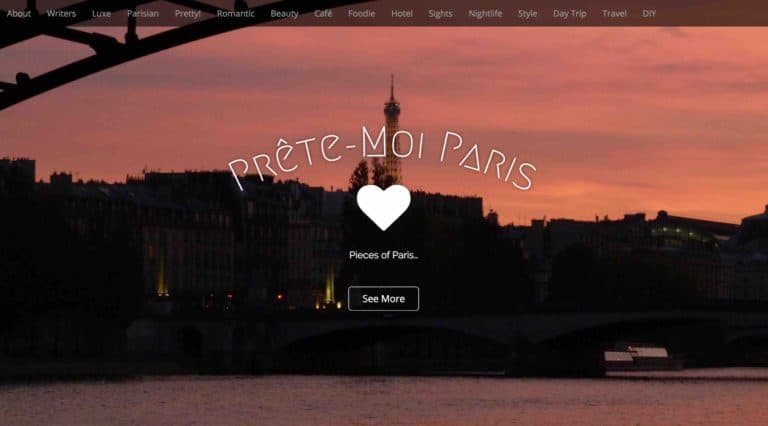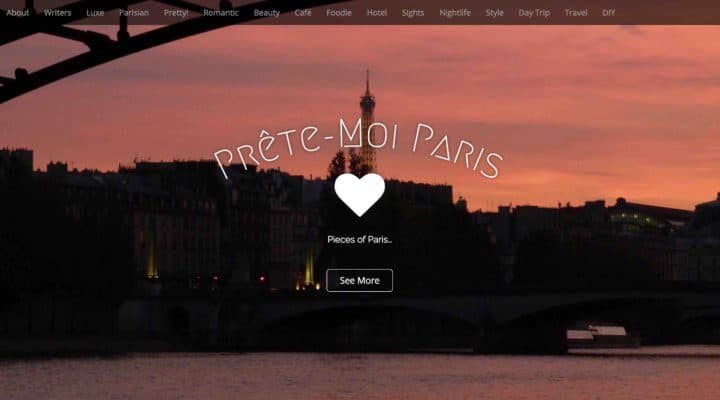 France Says' tag line is "Observations of Life in France. By an adopted Française" which accurately represents the site. You'll get here a first-hand approach of all the things you may encounter when living in France. Whether you already live in France and are looking for something to relate to or you're just looking for an insight what life in France may be you will find something for you here at France Says.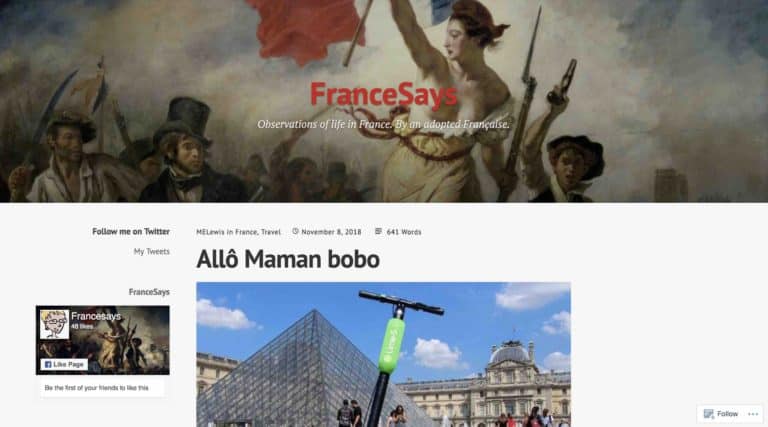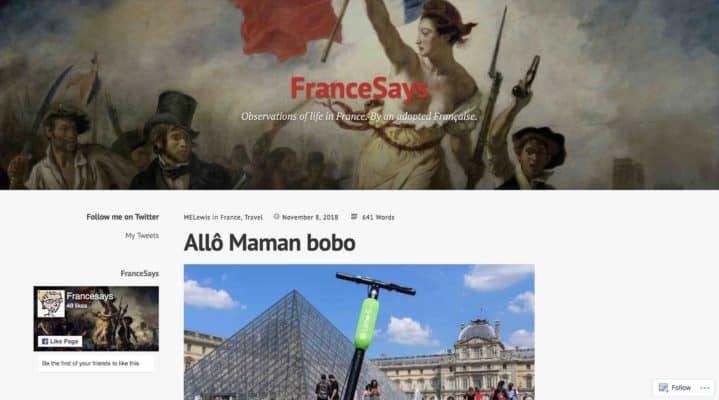 The French Village Diaries is an amazing website about life in France (particularly the Poitou-Charentes region) and everything the owner encounters on a daily basis. What sets this blog apart from many of the others is that there are numerous book reviews of books all related to France or French in some way. Take a few minutes to look through some of these reviews and you're certain to find something you'd be interested in.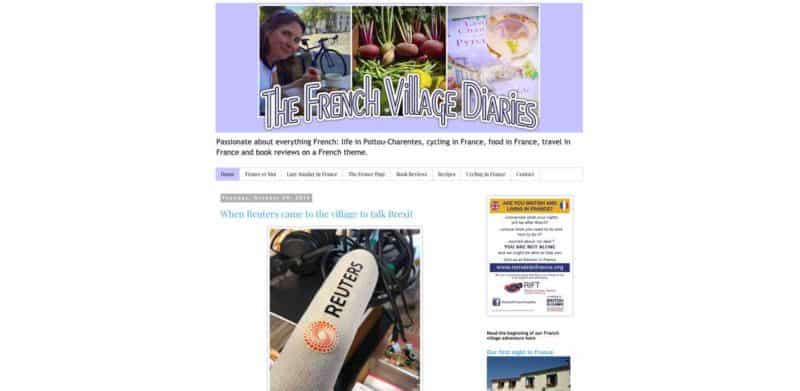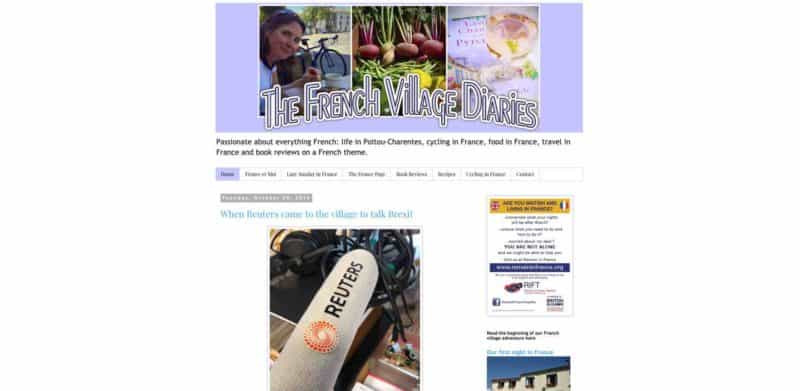 Live-French.net gives you access to a real French tutor that you can learn from no matter where you are. This site specializes in over the phone and Skype lessons for French learners. Whether you are a beginning French learner or something looking to make a presentation in French, Live-French.net can offer something to you. They even let you book a free trial lesson so you can test it out.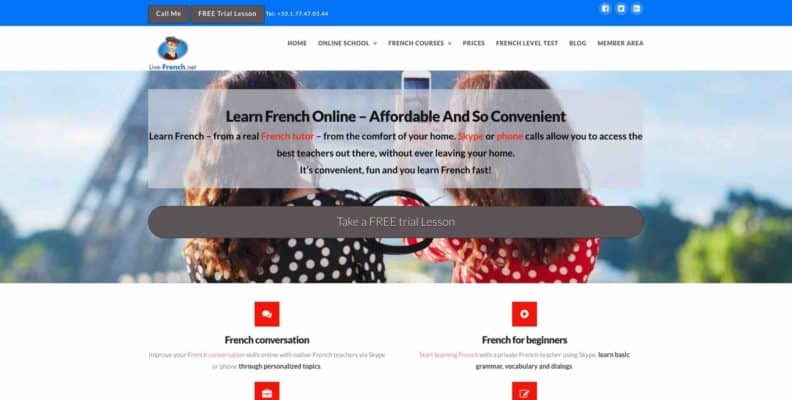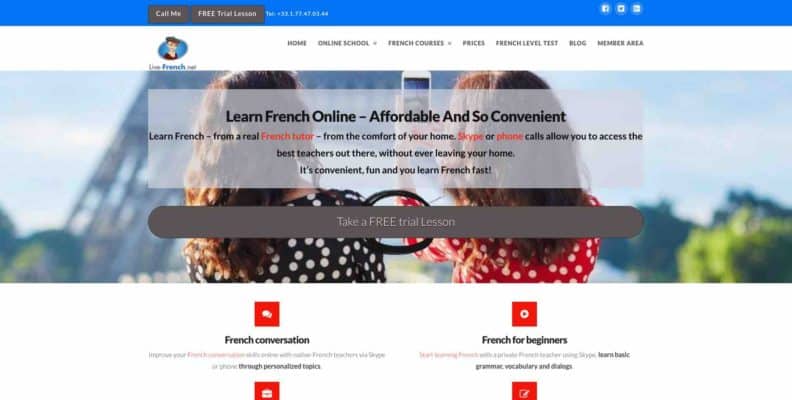 Chez Loulou will give you a great taste of what it's like to live in France as an outsider. You can find great information on moving to France and what it costs to live there. If you enjoy French cheese then you're in luck here because there is an entire section devoted to reviews of different French cheeses. Also, unlike other websites you can find extensive content on how the owner obtained French citizenship, a topic that many people ask about.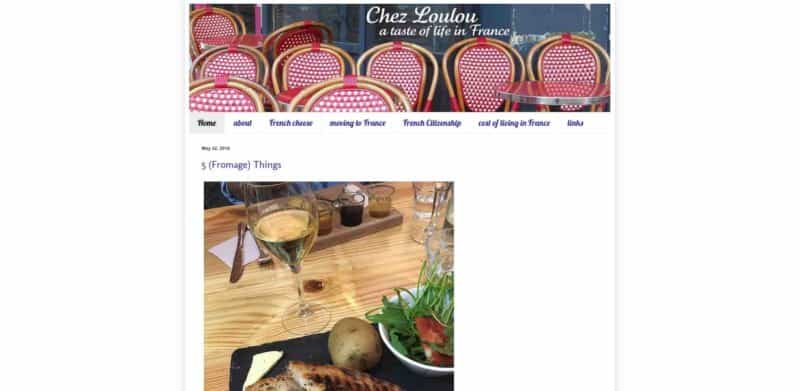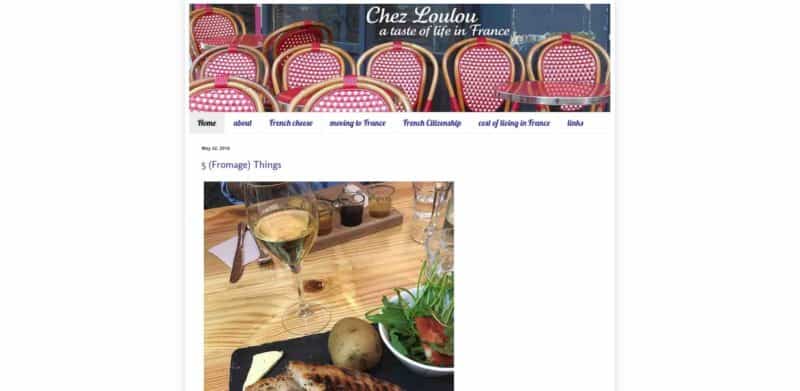 Fluent French now is a resource for native-English speakers looking for fluency in French. What's special about this blog is that it's catered more to intermediate and advanced French learners rather than for beginners. If you already have a lot of experience with the French language and are looking for something more then Fluent French Now may be a great resource you can turn to.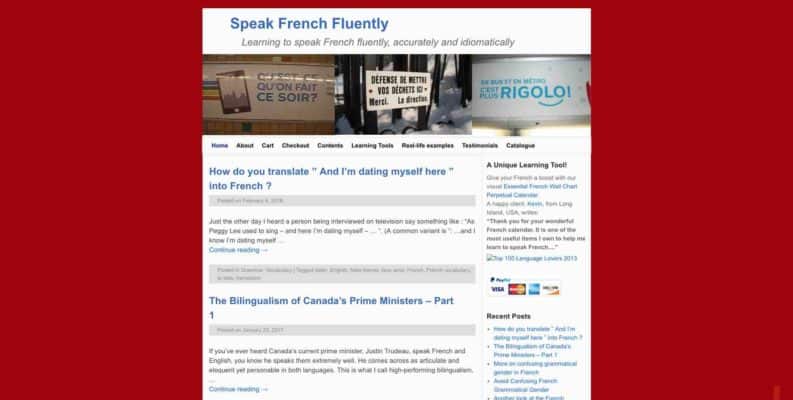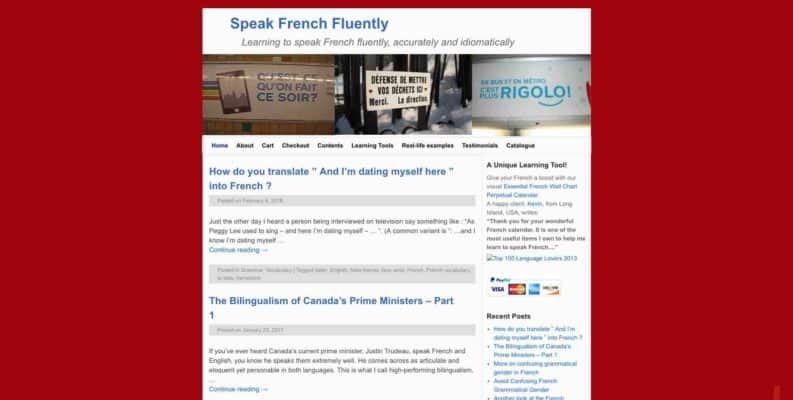 Bonjour French Words is a simple blog where one can learn mostly new French vocabulary and expressions. With the archives easily accessible, there's plenty of new things to learn. If you want a casual way of learning French then I highly recommend Bonjour French words. 
The Everyday French Chef is one of the best places on the net to get information on French food and recipes. If you aren't interested in the French language or just looking for something else French-related, take some time to visit the Everyday French Chef and you just might find something that you can make at home.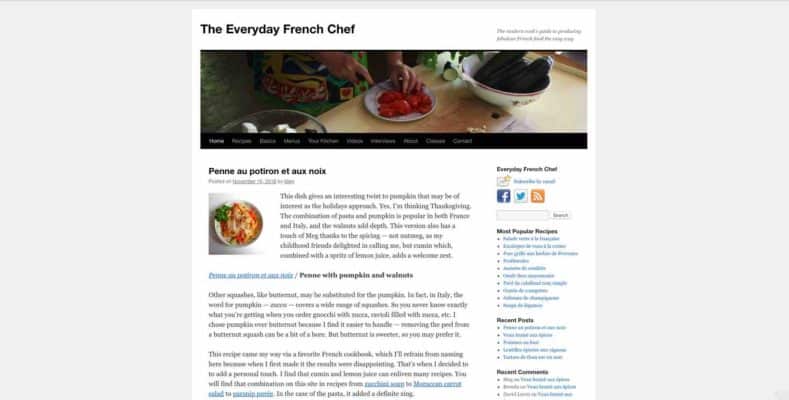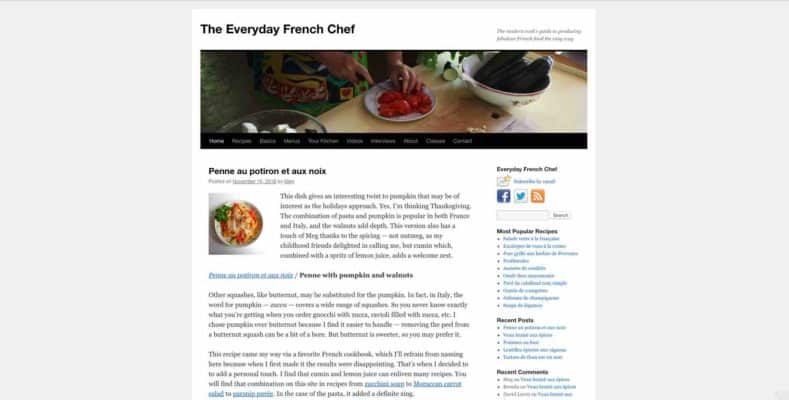 French Word a Day is a great site where you can learn tons of great vocabulary. Don't be fooled by the title you can easily learn more than one French word a day from this website. You'll find here tons of interesting and captivating first-hand stories that take place in France with lots of vocabulary to go allow along with it. A lot of the vocabulary is rather advanced too so don't feel like you can't learn anything if you don't consider yourself a beginner.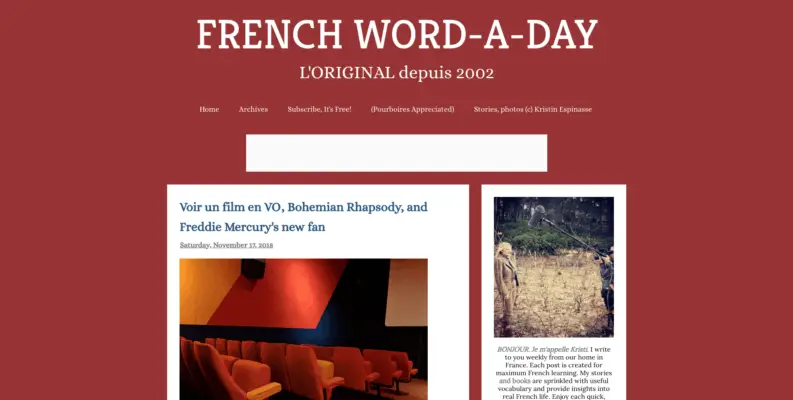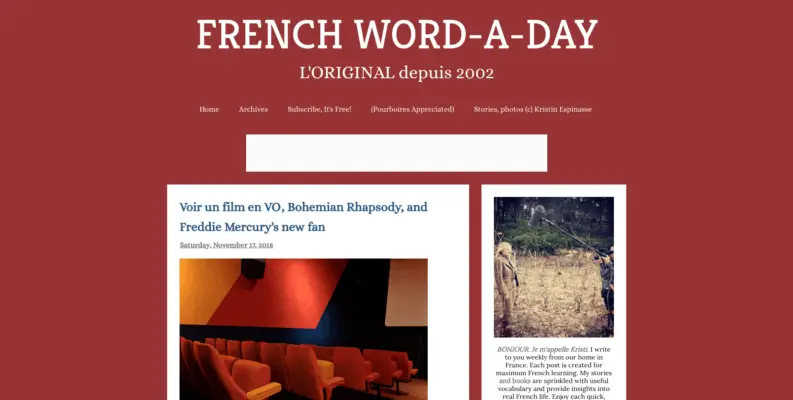 If you are looking to visit, live in, or just curious about Lyon then this is the place for you. J'adore Lyon is a great blog almost exclusively about the French city of Lyon. If you're interested in other French-related subjects you will also find articles on other regions in France, French food and wine, as well as the French language.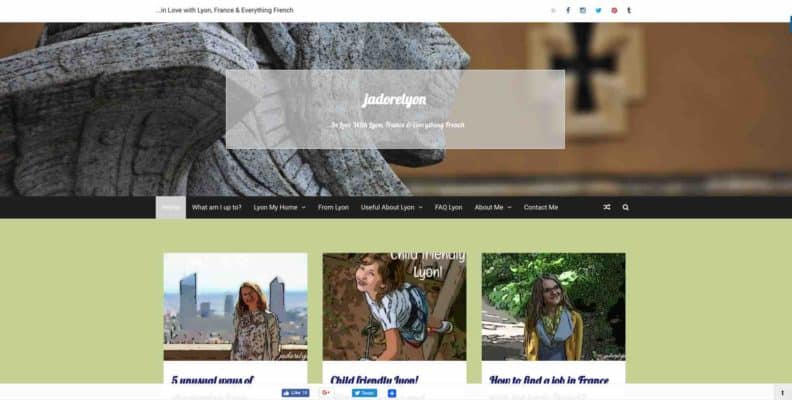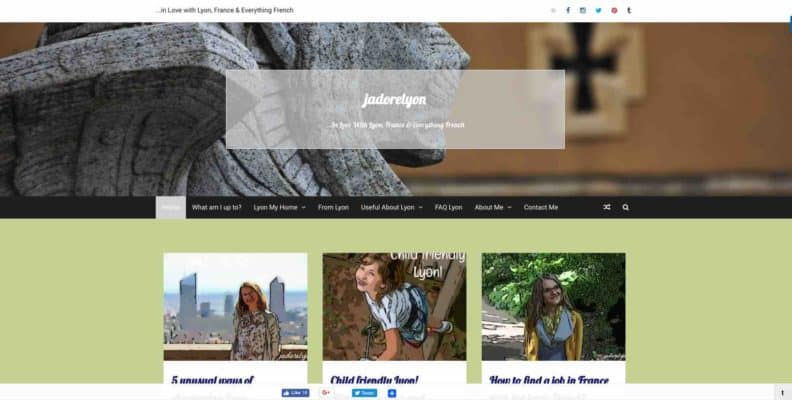 Few websites have an archive of educational and fun videos than Oh La La, I Speak French. If you prefer to learn French (or are just looking to) through videos you can probably find a video on anything you need to get started with your French journey. If you don't care to learn from videos there are still tons of written content explaining various essential grammar points you need to speak fluently.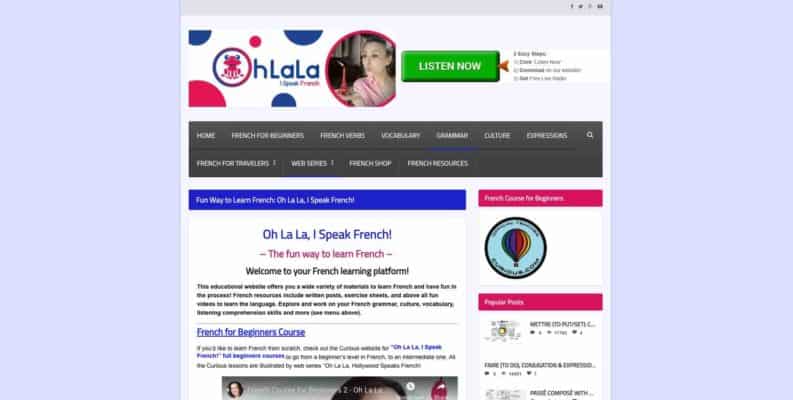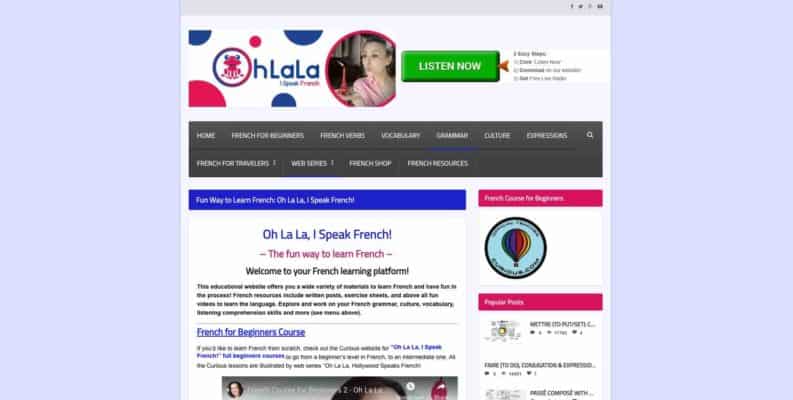 If you are serious about learning French fluently then French Learner is absolutely a website you need to look into. French Learner offers online private French lessons via Skype that give you the personalized attention you don't get from traditional classroom courses. There are even free vocabulary lists that you can find while looking through the site that are great for the beginning learner.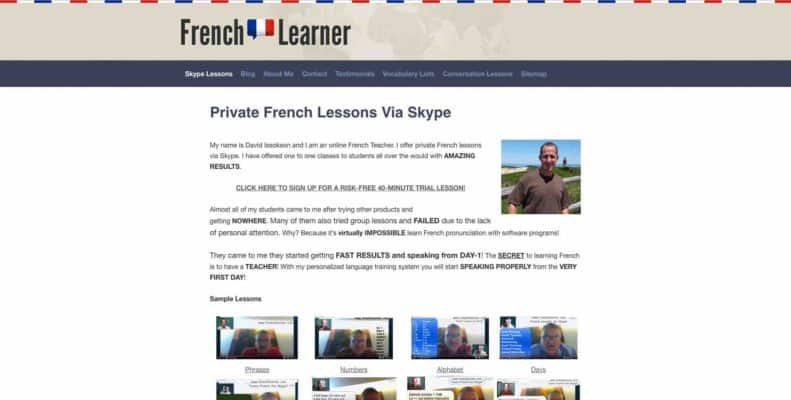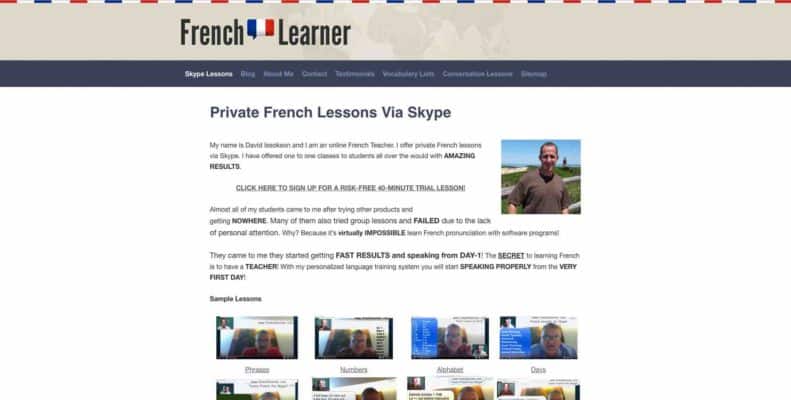 Love France is a blog written by a British expat living in France and talks about pretty much anything related to France or the French language. Overall, it's a fantastic place for some casual reading where you can learn about a variety of French topics that you probably wouldn't find on a lot of other blogs.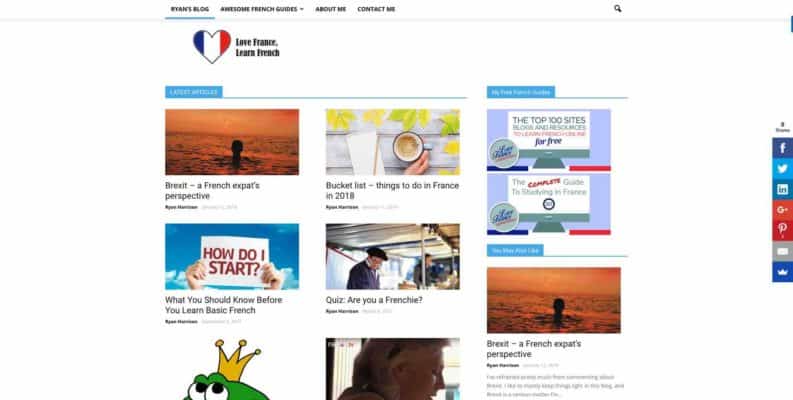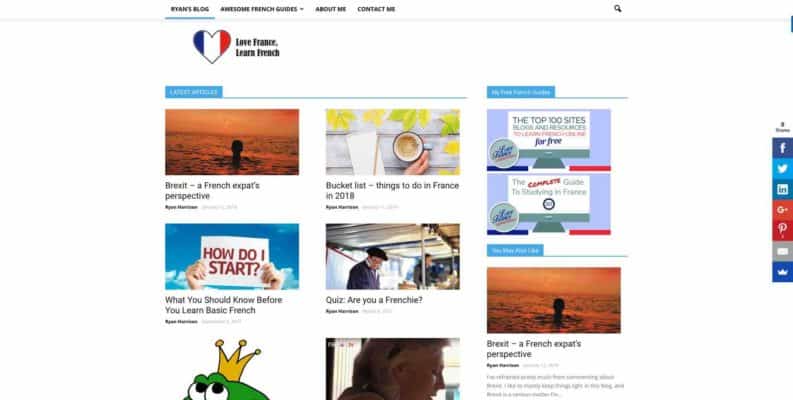 Learn French with Alexa contains educational video and audio lessons that are part of French language courses you can learn from. If you want more content there are even exclusive live video lessons available for subscribers as well as a podcast so there will always be new content to learn from. Alexa knows exactly what difficulties French learners encounter in their studies and uses her many years of professional teaching experience to help them overcome them.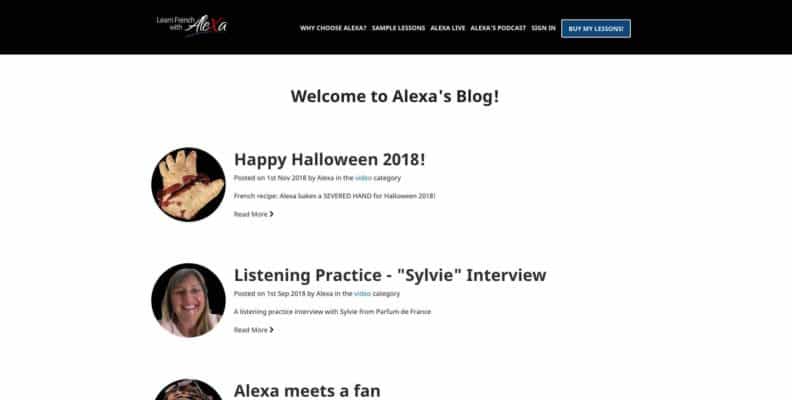 Frenchfluency.net offers a no-nonsense approach to learning French. You can find here the exact approach that the owner used to bring themselves to fluency in five languages. There is even a one-on-one service where you get your own personal roadmap to fluency tailored to your needs. But be careful, enrollment for this is only open a few times a year so if you want your own then sign up to receive emails and you'll get weekly updates regarding the availability of enrollment. In addition, you'll get invited to free classes when they happen and get tons of French learning mojo for free. There is even a blog on the website with well-written articles and videos with free French advice.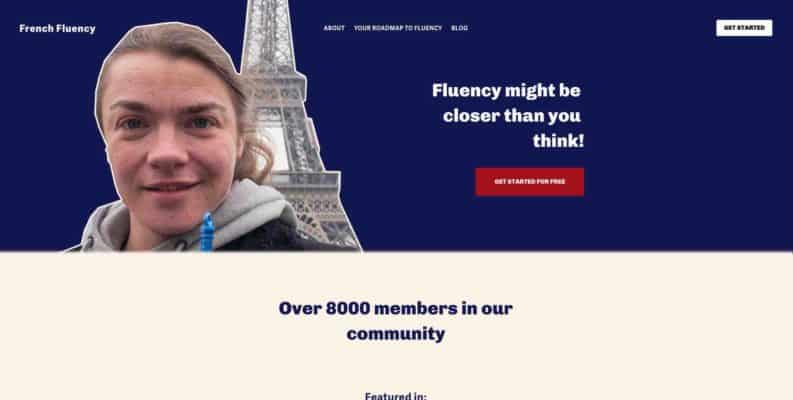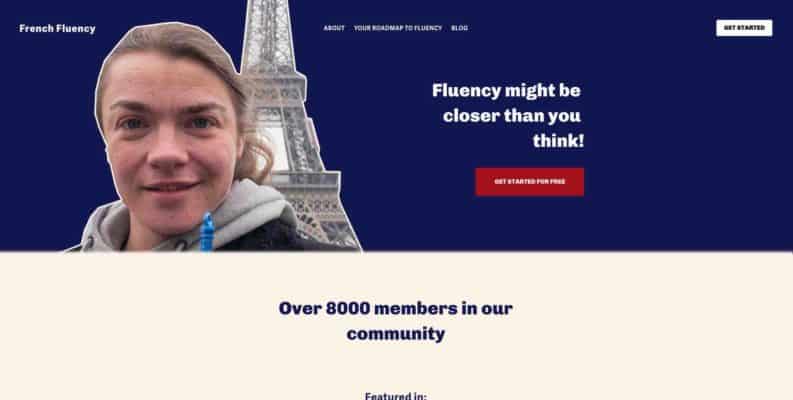 Oui in France is a lifestyle blog all about living abroad in France. Not only can you find all of the great things that come along with life in France, but you can also find information on a lot of what many don't ever talk about such as going to the doctor or how to get a haircut. Start with this blog if you are thinking of living in France and have no idea what to expect.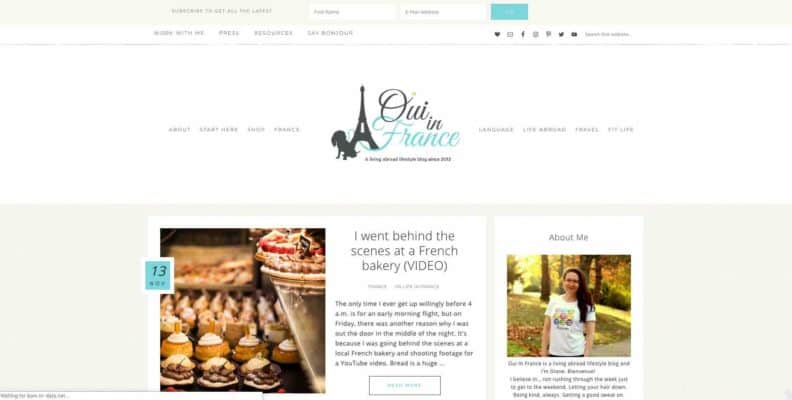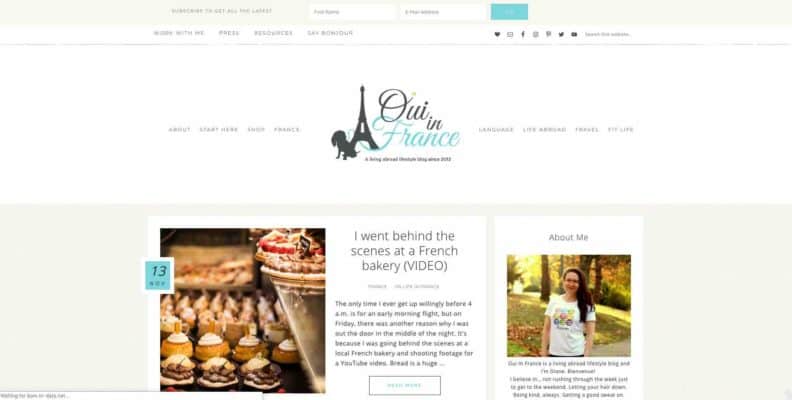 Just as the name implies, Learn French by Podcast is a website with downloadable French audio lessons. No matter what your level of French is there is something here for you because they offer lessons for everyone no matter where you are in your French journey.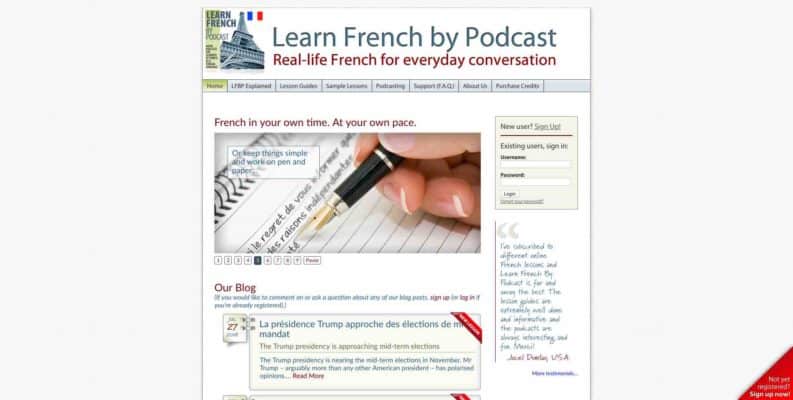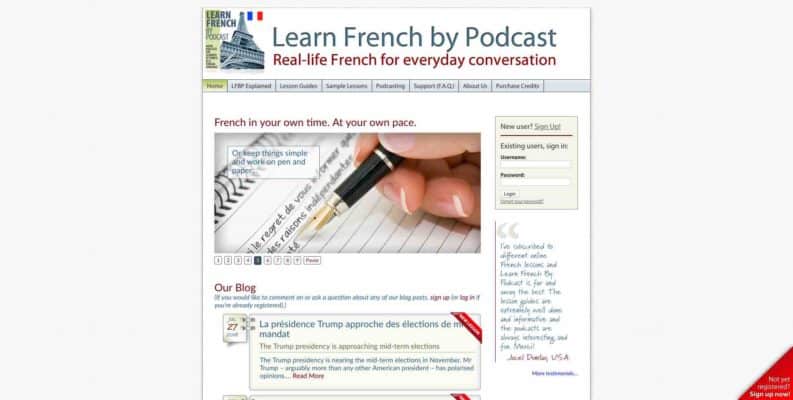 This site is the exact opposite of what a lot of these sites in this list are. A French Guy in London talks about the experiences of a Frenchman living in the London area. If you are familiar with London and are interested in the perspective of someone from France then head on over to afrenchguyinlondon.com.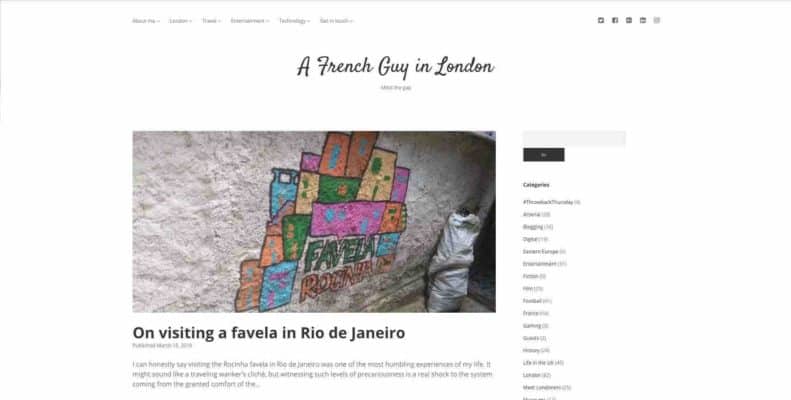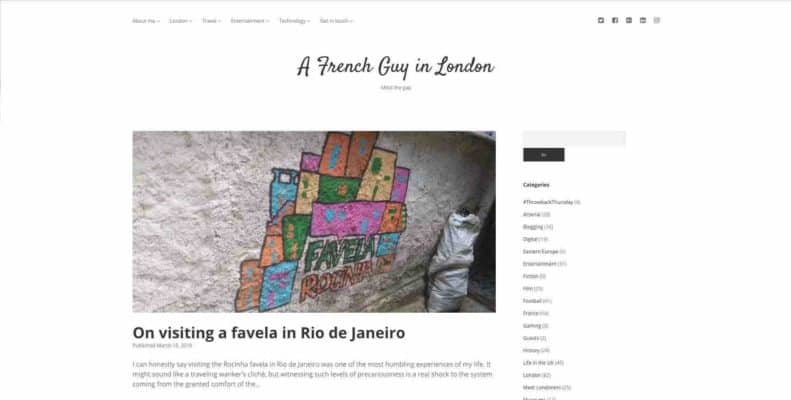 Prof Michelle is a blog that offers exercises and articles for French learners. There are quite a lot of different categories on here with content so you're bound to find something you're interested in. The best part of it is that the entire website is in French! If you are a beginning French learner and want to challenge yourself visit profmichelle.com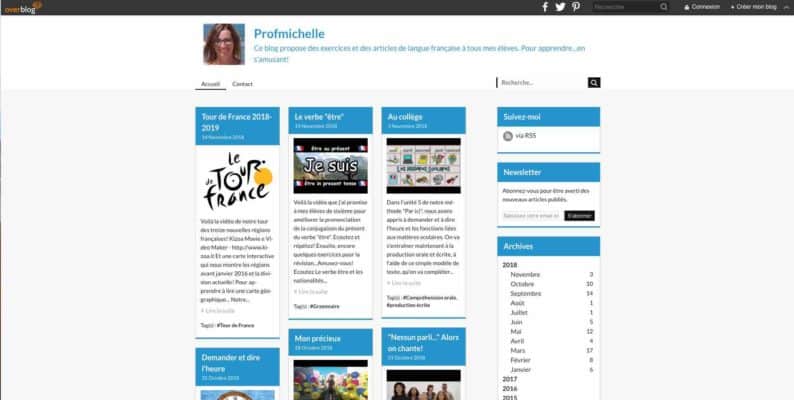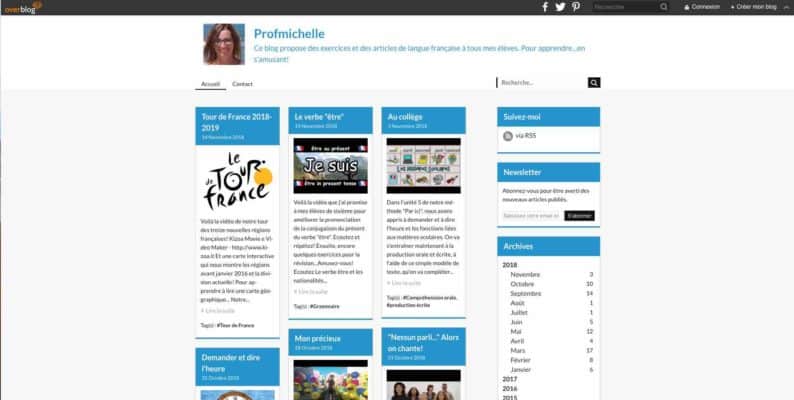 All French food lovers will be huge fans of Une French Girl Cuisine. You'll primarily see here recipes of delicious foods to try with pictures to show exactly what you're missing. Amazingly there is both an English and French version of the site so even if you aren't interested in cooking you can still use this site quite a bit.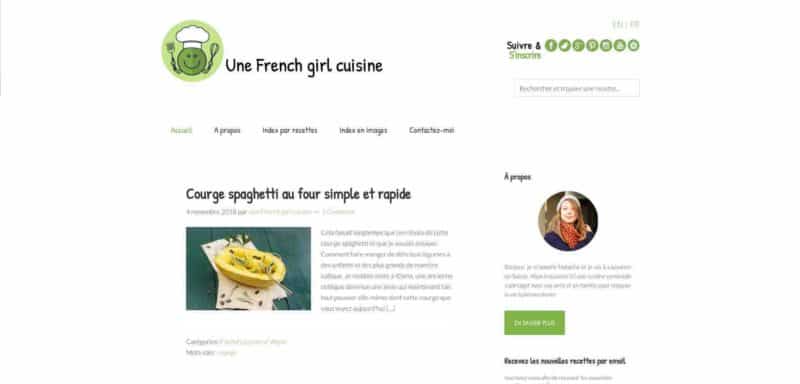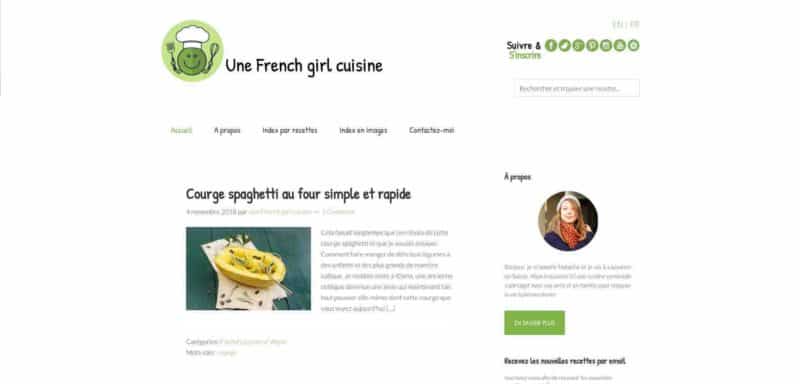 Advanced French learners will want to visit La Langue Française as the content the site has can be rather complicated. This is definitely the place for all of those who have gotten past the beginner stages and are struggling to find a website with material that fits their level.