In Japan, the drinking age is 20. In The United States, the drinking age is 21. In Italy, the drinking age is 16. But what is the drinking age is France?
As is the case with many countries in the world, the drinking age in France is 18. This wasn't always the case and there are exceptions to this, but for most situations 18 is the magic age where alcohol can legally be consumed.
Not only do you have to be 18 to consume alcohol, you have to be 18 to purchase it at well (even if you have no intention of drinking it.) Not only that, you must also be 16 to enter a débit de boissons (bar, tavern, etc..) unless of course you are accompanied by an adult.
When you are in an establishment that sells alcohol, you will likely see this paper that outlines some of the most common laws regarding alcohol in France posted somewhere on the wall.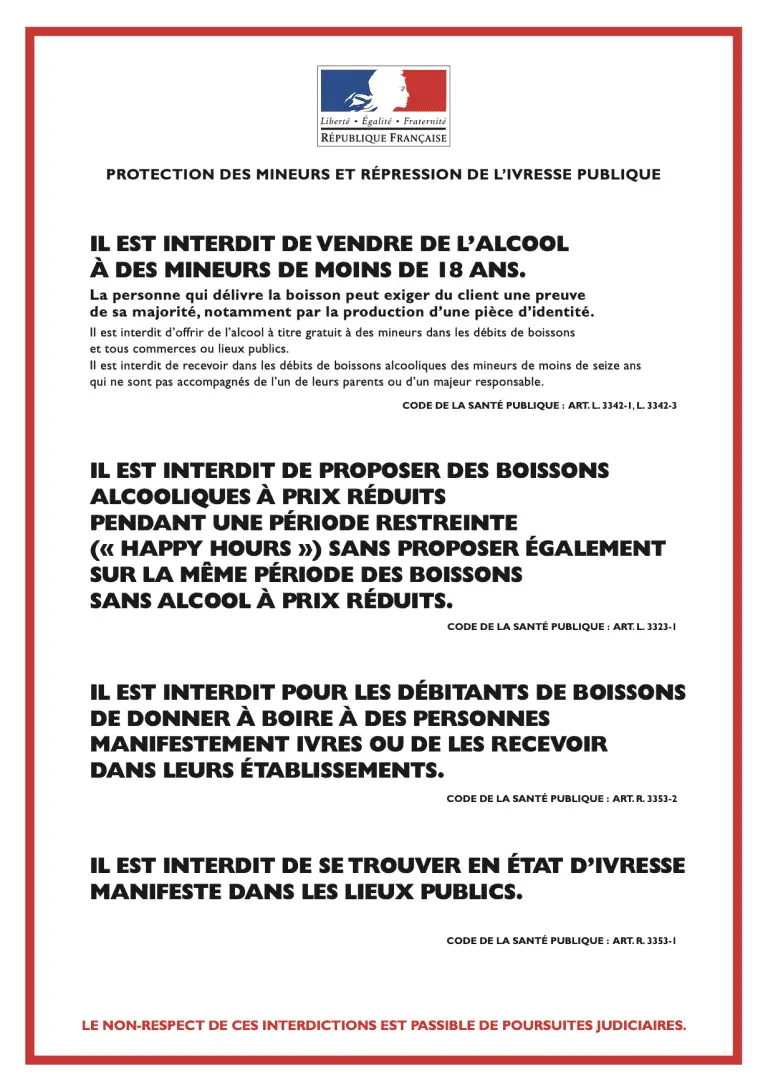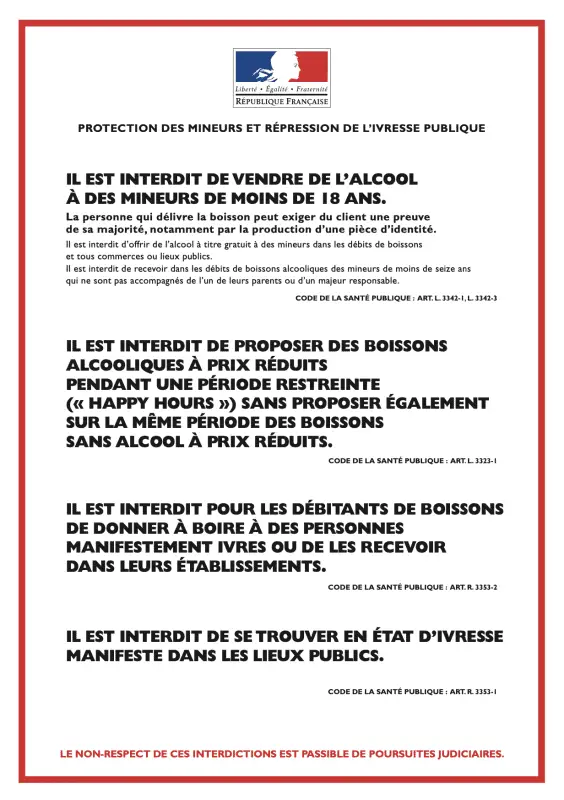 If you're a beginner in French you may not understand everything that it says, but the next time you're in France keep an eye out for it as it's required to be posted somewhere visible. 
Let's look at each of these sections and translate them one at time to understand what they mean.
IL EST INTERDIT DE VENDRE DE L'ALCOOL À DES MINEURS DE MOINS DE 18 ANS
– It is prohibited to sell alcohol to minors under 18 years of age
La personne qui délivre la boisson peut exiger du client une preuve de sa majorité, notamment par la production d'une pièce d'identité.
– The personne delivering the drink may ask for proof of age from the customer, notably by producing a form of identification.
Il est interdit d'offrir de l'alcool à titre gratuit à des mineurs dans les débits de boissons et tous commerces ou lieux publics.
– It is prohibited to offer alcohol free of charge to minors in drinking establishments and any stores or public places.
Il est interdit de recevoir dans les débits de boissons alcooliques des mineurs de moins de seize ans qui ne sont pas accompagnés de l'un de leurs parents ou d'un majeur responsable.
– It is prohibited to have minors under 16 years old in drinking establishments who are not accompanied by one of their parents or a responsable adult.
IL EST INTERDIT DE PROPOSER DES BOISSONS ALCOOLIQUES À DES PRIX RÉDUITS PENDANT UNE PÉRIODE RESTREINTE («HAPPY HOURS») SANS PROPOSER ÉGALEMENT SUR LA MÊME PERIODE DES BOISSONS SANS ALCOOL À PRIX RÉDUITS.
– It is prohibited to offer alcoholic drinks at reduced prices during a limited period of time ("Happy Hours") without also offering non-alcoholic drinks at reduced prices over the same period of time.
IL EST INTERDIT POUR LES DÉBITANTS DE BOISSONS DE DONNER À BOIRE À DES PERSONNES MANIFESTEMENT IVRES OU DE LES RECEVOIR DANS LEURS ÉTABLISSEMENTS.
– It is prohibited for drink sellers to give drinks to people clearly drunk or to have them in their establishments.
IL EST INTERDIT DE SE TROUVER EN ÉTAT D'IVRESSE MANIFESTE DANS LES LIEUX PUBLICS.
– It is prohibited to be in a state of drunkenness in public places.
I think the the most interesting one of these laws is the one that states that you can't have happy hour without also having happy hour for non-alcoholic drinks. Definitely an interesting law.
Something that is not noted above is that you obviously don't have to be 18 to visit an establishment that does not sell alcohol. You do however have to be at least 13 if you are not accompanied by an adult.
Minors are also not allowed to work (whether it be actual job or an internship) in an establishment that sells alcohol. An exception to this is if the minor is a close relative of the owner of the establishment.
For those who have a fair level of French, check out this guide that answers a handful of questions regarding drinking laws in France.
A Little History of the Drinking Age in France
We've already established that the drinking age in France is 18, but that this wasn't always the case. Before 2006, those 16 years of age or older were allowed to consume fermented alcoholic beverages such as beer, cider or wine.
They did however have to wait until they were 18 to consume hard alcohol (vodka, rum, etc..) Nowadays, the law states that you have to be 18 no matter the type of alcohol.
One of the main reasons for the change in the drinking age of certain beverages was due to binge drinking becoming more common within French culture.
For a long time binge drinking was not very common among the French, but in recent years more young people have started to pick up the trend.
Where Can You Buy Alcohol in France?
Depending on where you live, you may or may not be used to having to buy alcohol at a specific store designated to the sale of alcohol. In France, you can purchase alcohol (whether it be beer, wine or hard liquor / spirits) at any store where food is found such as at a grocery store or convenience store.
It's not uncommon for the sale of alcohol to be prohibited after 10pm. Despite this, don't be surprised if you see people buying alcohol later than this. Stores don't always follow the law.
Some places have additional restrictions such as restricting the consumption of alcohol on the street after 4pm as well as the sale of alcohol after 8pm.
Places with these restrictions are typically within Paris and include areas like the front of the Eiffel Tower, the Champs de Mars, the Place de la Bastille, the Rue d'Oberkampf and other popular tourist destinations.
Are There Open Container Laws in France?
Most people will tell you that there are no open container laws whatsoever in France and that you are free to drink wherever you would like without repercussions. The real answer is a bit more nuanced.
In the past, specifically in Paris, there were areas where you were technically not allowed to consume alcohol in public after a certain time (like we mentioned in the previous section.) I say technically, because if you've ever visited France (particularly Paris) you'll quickly notice that these laws are enforced pretty haphazardly when they are enforced at all.
In an effort to reduce public gatherings (due to the COVID-19 pandemic) these laws have been strengthened and expanded a bit. If you take a minute to search (preferably in French if possible) you'll see that the laws differ from department to department and can change rapidly.
Any list you see online that outlines where you can and can't drink in public may be outdated or missing areas. Your best bet is to simply look up the local laws the next time you are in France.
It's likely true that if you aren't causing a scene or otherwise being unruly, you may get away with having an open container in public (even where prohibited.) At the same time, don't be surprised if you're asked to toss your container.
Is it Legal to Drink and Drive in France?
Obviously not. The blood alcohol limit is 0.5 after which you are legally considered drunk.
Is It Bad If I Don't Want to Drink Alcohol While in France?
It's absolutely true that wine (more than other alcohols) is a big part of French culture. Having that said, if you don't normally drink alcohol or just don't feel like it at the time don't sweat it.
Nobody is going to poorly judge you or treat you differently because of it. You should note however that unless you are upfront about it straight away, you may be offered alcohol when at some sort of social event (soirée, etc..)
If you're against drinking alcohol (such as for religious reasons) don't take offense. It's just a normal part of French life. 
Hopefully now you have a bit of an idea of what the drinking age in France is as well as some knowledge surrounding common alcohol-related laws. If you'd like to learn more about French culture, head on over to our French culture page.